February 10, 2017
Conference Paper: Hukum Cambuk Aceh vs Convention Against Torture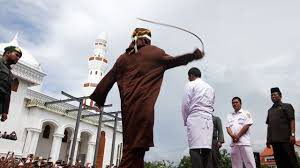 Assalaamu'alaykum warahmatullaahi wabarakaatuh,
Alhamdulillah paper saya berjudul "Lashing in Qanun Aceh and the Prohibition Against Torture and Cruel Treatment in the Convention Against Torture" diterima dan siap dipresentasikan di Aceh Development International Conference 2017 (IIUM, 24-26 Maret 2017).
Paper ini adalah sepotong dari penelitian yang didanai oleh Unit Penelitian dan Pengabdian Masyarakat Fakultas Hukum Universitas Gadjah Mada (PPM FH UGM), yang mana ini adalah penelitian tim. Saya bertindak sebagai ketua tim, lalu ada Dian Agung Wicaksono (Departmen Hukum Tata Negara), Ola Anisa Ayutama (Mahasiswa S2), dan Almonika Cindy Fatikasari (Mahasiswa S1) sebagai peneliti anggota, dengan judul asli penelitian: "Hukuman Cambuk Sebagai Implementasi Syariat Islam pada Qanun Aceh dalam Perspektif Konstitusi dan Convention Against Torture"
Berikut saya upload versi final dari paper tersebut, silahkan diklik di sini untuk versi bahasa Inggrisnya. Sebetulnya sudah diterima untuk publikasi di Jurnal Media Syariah, Edisi Juni 2018, tapi nampaknya ada kendala teknis hingga sampai sekarang (4 Desember 2018) belum terbit juga edisi tersebut. Tapi saya bagi dulu saja ini author version-nya.
Alhamdulillah telah tersedia versi terjemahan bahasa Indonesia dari paper tersebut, silahkan klik di sini untuk versi bahasa Indonesianya.
Di bawah ini saya cantumkan abstraknya :
ABSTRACT
While considered archaic to some, the Islamic Sharia applies lashing as punishment for a number of penal offences. Aceh is a special province in Indonesia with the privilege to apply some level of Islamic Sharia. Among them is to apply lashing as punishment for crimes such as fornication, gambling, consuming alcoholic beverages, and many others. Some have criticized this punishment as a violation of the prohibition against torture and cruel treatment. This article will explore the relevant sources of international law and examine whether or not such a claim is true. It will be found that the Islamic Sharia version of lashing as applied in Aceh does not violate this prohibition, except in a very narrow minded view of international law.
————————————–
Catatan: saya ucapkan banyak terima kasih kepada rekan-rekan peneliti saya, juga reviewer Dr Jaka Triyana beserta Ketua dan Sekretaris Unit PPM yang menjabat saat itu, yaitu Bapak Pitaya (almarhum) dan Ibu Agustina Merdekawati.