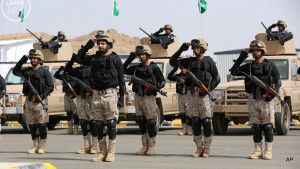 Pendahuluan
Dulu saya pernah membuat sebuah tulisan berjudul "Invasi Saudi ke Yaman vs Invasi Saudi ke Suriah: Perbandingan Legalitas dalam Hukum Internasional" (silahkan dibaca di sini) yang mana kesimpulannya adalah bahwa hukum Internasional –saat itu—akan memandang illegal jika Saudi Arabia melakukan serangan ke Suriah. Karena itulah, dalam artikel saya dulu itu, saya menjelaskan bagaimana jauh lebih aman bagi Saudi Arabia untuk tetap membantu Ahlus Sunnah Suriah dengan cara lain sambil menjaga jarak aman. Akan tetapi, begitulah cepat perpolitikan dunia berubah.
Baru-baru ini ada kabar bahwa Saudi Arabia siap mengirim pasukan ke Suriah untuk memerangi Dawlah Khawarij Da'esh, dan UEA pun ikut bersiap-siap. Kenapa Saudi Arabia sekarang berani mempersiapkan langkah yang jauh lebih tegas di banding sebelumnya yang hanya mengirimkan bantuan senjata dan dana untuk beberapa kelompok mujahidin Ahlus Sunnah?
Syarat Sah Kirim Pasukan Ke Negara Lain
Sebagai rangkuman post yang sebelumnya, jika anda malas membaca, hukum Internasional membolehkan sebuah Negara boleh mengirim pasukan ke Negara lain hanya dalam keadaan-keadaan berikut:
Jika Dewan Keamanan PBB mengeluarkan Resolusi atas dasar Bab VII untuk demikian
Jika diminta oleh pemerintah resmi sebagai bantuan
"Pertahanan Diri Preemptif"
"Humanitarian Intervention" atau 'Intervensi Kemanusiaan' jika ada krisis kemanusiaan yang amat sangat besar dan kalau tidak diintervensi akan bertambah kacau
Dua yang pertama disepakati oleh Ulama hukum internasional serta 'ulil amri' secara ijma. Pada dua poin berikutnya ada khilafiyah yang sangat besar di antara ulama hukum internasional, dengan jumhur 'ulil amri' cenderung kurang setuju.
Resolusi No. 2249 (2015)
NAH, Dewan Keamanan PBB pada tanggal 20 November 2015 mengeluarkan Resolusi No. 2249 (2015) yang pada pokoknya di pasal 5 mengajak (bukan memerintahkan) Negara-negara yang mampu untuk melakukan "…all necessary measures…". Bahasa "…all necessary measures…" ini bukan pertama kali digunakan. Misalnya, dulu, saat Irak menyerang Kuwait di awal tahun 90, keluar Resolusi No. 678 (1990) yang mengotorisasi Negara anggota PBB "… to use all necessary measures…" dan kita semua tahu bagaimana USA dan Inggris menafsirkan itu. Dunia pun mengamini.
Sayangnya, resolusi ini agak bermasalah. Dewan Keamanan PBB menurut piagamnya sendiri hanya bisa mengadakan perjanjian dengan anggotanya untuk menyumbangkan pasukan, lalu, atas nama PBB, melakukan serangan (lihat Pasal 43 dst di Piagam PBB). Nah, masalah otorisasi serangan pada NATO atau Negara lain bagaimana? Itu namanya implied powers, alias kewenangan tersirat, di mana ini dianggap berada dalam keumuman mandat Dewan Keamanan PBB untuk menjaga keamanan dan perdamaian dunia. Untuk melakukan ini, setidaknya ada dua hal yang harus dipenuhi yaitu: Harus menyebut Bab VII sebagai dasar secara eksplisit, yaitu membuka pasal-pasal dengan terlebih dahulu mengatakan "…Acting under Chapter VII of the Charter…", lalu menggunakan kata yang bermakna perintah misalnya "…decides…".
Makanya itu, Resolusi No. 2249 (2015) ini agak sulit untuk serta merta menjadi justifikasi Negara yang menyerang. Bab VII tidak disebut, dan istilah yang digunakan di Pasal 5 bukan kata imperative melainkan mengajak saja (digunakan istilah '… calls upon …'). Nah, dengan demikian, the United Kingdom alias UK (sudah menyetujui serangan udara ke ISIS) pun serangannya agak meragukan legalitasnya karena resolusi DK PBB ini tidak bisa menjadi dasar. Akan tetapi, UK bisa mengeluarkan satu argumen yaitu "intervensi kemanusiaan" karena memang UK berada di pihak yang pro intervensi kemanusiaan dan tidak bisa diapa-apakan oleh Dewan Keamanan karena memiliki hak veto. UK juga dapat berdalil bahwa ISIS juga merupakan ancaman dan lebih baik dihajar sebelum dia datang ke UK, yang tampak merupakan argumen 'pertahanan diri preemptif'. Apakah argument ini betul? Yah, setidaknya itu klaimnya. Yang jelas, agak lebih berat argumen UK untuk diterima karena kebijakan pun diprotes oleh rakyat UK sendiri tapi hukum internasional tidak terlalu peduli terhadap protes protes seperti ini. Yang dilihat adalah tindakan pemerintah sah.
Resolusi No. 1373 (2001): Suatu Peninggalan Untuk Hukum Internasional
Akan tetapi, jangan sampai pula kita melupakan Resolusi No. 1373 (2001) pasca serangan WTC di USA. Resolusi ini adalah yang pertama dalam hukum internasional menyatakan bahwa Self Defense dalam Pasal 51 tidak harus dipicu oleh serangan Negara lain tapi juga bisa dipicu oleh serangan entitas non-Negara. Lihatlah mukadimahnya di poin keempat, bagaimana "…individual and collective self defense…" dalam resolusi ini yang membicarakan tindakan terorisme. Bukan berarti sebelumnya Negara lain tidak boleh bela diri jika diserang entitas non-negara, hanya saja tidak dilabeli "Self Defense" dalam hukum internasional.
PS: kita kesampingkan dulu kontroversi politis di balik resolusi ini, saya Cuma bahas sisi hukum saja.
Apa konsekuensinya? Self defense, menurut Pasal 51 Piagam PBB, adalah sebuah justifikasi untuk menggunakan kekerasan bersenjata dalam hukum internasional. Dan kita tahu bagaimana Amerika Serikat tidak lama kemudian meluncurkan sebuah invasi ke Afghanistan.
Beberapa hal yang bisa didapatkan dari Resolusi ini adalah antara lain: (i) pengakuan internasional tentang ancaman terorisme, (ii) bahwa serangan dari entitas non-negara bisa menjadi pemicu 'self defense' dan hak menggunakan kekerasan bersenjata, dan (iii) bahwa bisa jadi serangan terorisme di dalam wilayah suatu Negara dapat menjadi dasar melakukan serangan ke Negara lain yang menjadi basis teroris itu.
USA diminta bantuan oleh Iraq dan bukan Suriah untuk memerangi ISIS. Tapi bisa kita lihat USA akhirnya toh membombardir wilayah Suriah juga untuk mengejar ISIS dan Jabhat al Nusrah. Ini bisa jadi merupakan suatu praktek yang didasari oleh trend yang ditimbulkan oleh Resolusi No. 1373 (2001) tadi walaupun tidak persis sama tapi spiritnya sama. Memang tidak semua hal yang dilakukan oleh USA ini bisa dianggap sah oleh hukum internasional, karena banyak hal kontroversial lainnya misalnya serangan Drone di Pakistan.
Tapi, khusus untuk serangan kepada ISIS ini, USA tidak sendiri. Seperti dijelaskan sebelumnya, UK sudah mengotorisasi serangan udara ke sana. Perancis, juga karena mengalami serangan teroris ISIS, melakukan serangan kepada ISIS. Karena itu, ini sudah mulai merupakan trend yang dipraktekkan dan tampak diamini oleh dunia internasional. Belum lagi, baru Al Qaeda yang 'segitu' saja dunia sudah begitu hebohnya. Sekarang kita berhadapan dengan Dawlah Khawarij yang memiliki wilayah kekuasaan sangat luas, pasukan yang sangat banyak, dan kantong-kantong ekstrimis di berbagai Negara, yang jauh lebih kuat dari Al Qaeda.
Saudi Arabia dan ISIS: Gemath
Banyak yang menuduh Saudi Arabia (secara Negara) mendukung dawlah khawarij. Mungkin mereka lupa bahwa dawlah khawarij ini mendeklarasikan perang terhadap Saudi dan bahkan mengklaim memiliki kekuasaan di Saudi. Apakah ini ancaman kosong? Ternyata sudah banyak serangan ISIS ke Saudi Arabia (data sampai Mei 2015, Juli 2015, September 2015, Oktober 2015, ancaman di Desember 2015, dll). Walaupun jumlah korban diakumulasi mungkin belum sama dengan serangan Paris, tapi bayangkan potensi-potensi bahaya yang ada di Saudi Arabia karena ISIS ini! Bukan sedikit ekstrimis yang ada di Saudi Arabia, apalagi kalau dibandingkan di Perancis. Bukankah Saudi Arabia punya justifikasi sebagaimana USA, UK, dan Perancis?
Karena itulah. Dunia internasional sedang sangat ingin menghabisi si dawlah khawarij ini, beberapa Negara sudah mulai melakukannya, dan Saudi punya justifikasi yang bagus untuk ikut serta. Belum lagi, Saudi dengan menarik menawarkan bantuan melalui koalisi USA. Bagaimana hukumnya bekerjasama dengan kaum kafir dalam perang? Monggo tinjauannya dari segi ilmu fiqih. Tapi menurut saya ini cerdas. Jadi, mereka bisa menebeng legalitas atau setidaknya ketidaklegalan yang dibeking oleh USA, supaya tidak menambah musuh dulu dan mendapatkan maslahat dalam menjalankan perang melawan khawarij.
Dan, siapa tahu, jika pasukan Saudi (dan mungkin Turki) 'diusili' oleh pasukan Assad atau Rusia, nah bisa ikut menghajar mereka! Belum lagi lebih mudahnya membantu mujahidin Ahlus Sunnah dalam perang melawan Assad dan Khawarij.
Penutup
Ada beberapa hal yang ingin saya sampaikan sebagai penutup:
Legalitas tindakan militer Saudi ini bukan jelas mutlak legal, melainkan argumennya kuat menurut saya. Terlebih jika betul ini adalah bersama-sama dengan pasukan USA. Akan sulit untuk menghukum Saudi Arabia.
Jika argument ini dapat diterima, ini Cuma legalitas menyerang dawlah khawarij. Kalau menyerang Assad dan Rusia agak sulit, kecuali diserang duluan.
Ini adalah ranah hukum jus ad bellum atau 'kapan boleh perang'. Ada ranah hukum yang berbeda lagi yaitu jus in bello atau 'hukum dalam perang' berisi adab berperang antara lain siapa yang boleh diserang dan siapa yang tidak. Karena itu tidak menutup kemungkinan perangnya sah tapi melanggar jus in bello. Inilah salah satu kritik terhadap Saudi saat serangan ke Yaman. Legal tapi cenderung semberono. Saya berharap pasukan Saudi bisa lebih berhati-hati.
Monggo tinjauannya tentang hukum kerjasama militer dengan kaum kafir. Seingat saya dan kalau tidak salah ibn Rushd dalam Bidayatul Mujtahid mengatakan ada ikhtilaf ulama di sini (bukunya sedang tidak saya bawa, jadi belum bisa verifikasi) tapi monggo saja. Sepemahaman saya, tidak masuk akal untuk bekerja sama dengan Negara kafir yang tidak sedang diperangi saat itu, untuk memerangi kalangan lain yang jelas merupakan musuh yang wajib diperangi. Tapi Allaahu'alam, monggo saja saya dikasih masukan bagaimana dari segi syariatnya.