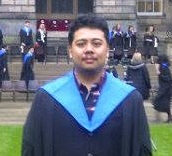 Name
Fajri Matahati Muhammadin
Academic Background
1. Sarjana Hukum or S.H. degree (equivalent to LL.B) from Fakultas Hukum, Universitas Gadjah Mada, Indonesia (completed 2012).
Thesis title: the Legality of Amnesty laws for Jus Cogens Crimes under the Norms of Jus Cogens
2. Legum Magister or LL.M. degree from the LLM in International Law at the University of Edinburgh, United Kingdom (Completed 2014).
Dissertation title: A Comparison between Islamic Laws of War and International Humanitarian Law with Reference to the Present Armed Conflict in Syria
3. Doctor of Philosophy in Law, Ahmad Ibrahim Kuliyyah of Laws, International Islamic University of Malaysia, Malaysia (Completed 2020)
Dissertation title: Fiqh al-Jihad in the Contemporary World: Addressing the Gaps in the Regulations on the Means and Methods of Warfare
Research Interests
Public International Law, Islamic law and thought especially in relation to international law (incl. international humanitarian law, international criminal law, human rights),
Secondary interests may include Islamic teaching in general, law in general, English debate and critical thinking, public speaking, international moot court, etc
Courses Taught*
Regular Undergraduate Program
"Hukum Internasional" (II), "Hukum Organisasi Internasional" (I), "PLKH Hukum Humaniter Internasional" (II), "Sikap Mental dan Etika Profesi Hukum" (I), Hukum Hak Asasi Manusia dan Hukum Humaniter Internasional (I)
International Undergraduate Program
"International Law" (II), "International Organization Law" (I), "Law of the Sea" (II), "Law of Treaties" (II), "International Human Rights and Humanitarian Law" (I), "Introduction to Law" (I), "Introduction to Indonesian Law" (I), "Ethics of the Legal Professions" (I), "Interviewing, Counseling, and Negotiation" (I)
LLM Program
"Public International Law", "Law of Treaties"
)* symbols (I) means course is offered on odd semesters, and (II) means course is offered on even semesters
Current Appointments
Lecturer at the Department of International Law, Fakultas Hukum, Universitas Gadjah Mada, Indonesia (on Study Leave)
Associate Member of the International Law and Maritime Affairs Research Unit, Ahmad Ibrahim Kuliyyah of Laws, International Islamic University of Malaysia.
Researcher at the Center for Gender Studies (CGS).
Editorial Assistant at the IIUM Law Journal
Expert Reviewer at the Juris Gentium Law Review
Peer-Reviewer at the Padjadjaran Jurnal Ilmu Hukum
Peer-Reviewer at the Padjadjaran Journal of International Law
Selected Publications
For my publication (academic or otherwise), please follow this link.