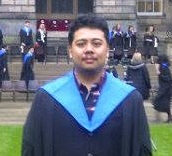 Name
Fajri Matahati Muhammadin
Academic Background
1. Sarjana Hukum or S.H. degree (equivalent to LL.B) from Fakultas Hukum, Universitas Gadjah Mada, Indonesia (completed 2012).
Thesis title: the Legality of Amnesty laws for Jus Cogens Crimes under the Norms of Jus Cogens
2. Legum Magister or LL.M. degree from the LLM in International Law at the University of Edinburgh, United Kingdom (Completed 2014).
Dissertation title: A Comparison between Islamic Laws of War and International Humanitarian Law with Reference to the Present Armed Conflict in Syria
3. Doctor of Philosophy in Law, Ahmad Ibrahim Kuliyyah of Laws, International Islamic University of Malaysia, Malaysia (2017 – currently ongoing)
Dissertation title: Fiqh al-Jihad in the Contemporary World: Addressing the Gaps in the Regulations on the Means and Methods of Warfare (ongoing)
Research Interests
Public International Law, Islamic law and thought especially in relation to international law (incl. international humanitarian law, international criminal law, human rights),
Secondary interests may include Islamic teaching in general, law in general, English debate and critical thinking, public speaking, international moot court, etc
Courses Taught*
Regular Undergraduate Program
"Hukum Internasional" (II), "Hukum Organisasi Internasional" (I), "PLKH Hukum Humaniter Internasional" (II), "Sikap Mental dan Etika Profesi Hukum" (I), Hukum Hak Asasi Manusia dan Hukum Humaniter Internasional (I)
International Undergraduate Program
"International Law" (II), "International Organization Law" (I), "Law of the Sea" (II), "Law of Treaties" (II), "International Human Rights and Humanitarian Law" (I), "Introduction to Law" (I), "Introduction to Indonesian Law" (I), "Ethics of the Legal Professions" (I), "Interviewing, Counseling, and Negotiation" (I)
LLM Program
"Public International Law", "Law of Treaties"
)* symbols (I) means course is offered on odd semesters, and (II) means course is offered on even semesters
Current Appointments
Lecturer at the Department of International Law, Fakultas Hukum, Universitas Gadjah Mada, Indonesia (on Study Leave)
Assistant at the IIUM Law Journal
Expert Reviewer at the Juris Gentium Law Review
Selected Publications
Books or Chapters
"Universalitas Hak Asasi Manusia dalam Hukum Internasional: Sebuah Pendekatan Post-Colonial", (Author), in anthology: Dr Al-Khaniff et al (Eds), "Hak Asasi Manusia: Dialektika Universalisme vs Relativisme di Indonesia", published by Universitas Jember, Center for Human Rights, Multiculturalism, and Migration, and SEPAHAM Indonesia, Upcoming (exp. December 2017)
"Handbook for Competitive Debating: Asian Parliamentary Format (Third Edition)" (Co-Author, Head of Author Team), published online by Jogja Debating Forum and licensed under Creative Commons, 2014
Journals and Papers
"De-Secularizing Legal Education in Indonesia: Examining the 'Introduction to Jurisprudence' Textbooks on 'Norm Classification'" (Lead Author), presented at International Seminar on Islamic Civilization and Thought, Universiti Sains Malaysia, Penang, 2017.
"Prospects and Challenges of Fiqhul Jihad in Modern Warfare" (Lead Author), presented at Konferensi Nasional Perbandingan Hukum, Universitas Airlangga, Surabaya, 2017.
"Towards a Revitalization of Islamic International Law in a Eurocentric World" (Author), has been accepted for publication at the Postgraduate Student Society of Ahmad Ibrahim Kuliyyah of Laws Magazine, upcoming edition of July 2017.
"Lashing in Qanun Aceh and the Prohibition Against Torture and Cruel Treatment in the Convention Against Torture", (Lead Author) presented at Aceh Development International Conference, International Islamic University of Malaysia, 2017.
"Comparing International Humanitarian Law and Islamic Law on War Captives: Observing ISIS." (Author), Jurnal Dauliyah, Vol 1, No. 2, 2016
"Refuting Da'esh Properly: a critical review of the 'Open Letter to Baghdadi." (Author), published in the Journal of International Humanitarian Action, Vol 1, No. 11, 2016
"Towards a United Islamic Identity in the Making of International Law" (Lead Author), presented at the Kuala Lumpur International Islamic Studies and Civilization Conference, Kuala Lumpur, 2016. Published in the International Journal of Business, Economics, and Law, Vol. 9, Iss. 5, 2016.
"Achieving an Honest Reconciliation between Islamic Laws of War and International Humanitarian Law" (Author), published in Jurnal Mimbar Hukum, Vol. 27, No. 3, October 2015
"Terrorism and the Crime of Aggression under the Rome Statute" (Author), published in Jurnal Mimbar Hukum, Vol 27, No. 1, February 2015, pp. 128-144
"Can International Law be Enforced Towards its Subjects Within the International Legal Order?" (Author), published in Jurnal Hukum Ius Quia Iustum Universitas Islam Indonesia, Vol. 21, No. 2, April 2014, pp.175-202
Mass Media
"Hukum dan Kesadaran Tentang Autisme", (Co-Author), published in Republika Online, 26 November 2017
"LPDP dan Diskriminasi SARA?", (Author), published in Republika Online, 13 November 2017
"Aku Pancasila dan Aku Bingung", (Author), published in Republika Online, 7 November 2017
"Anies Baswedan dan 'Pribumi'", (Author), published in Republika Online, 7 September 2017
"Apakah Pembantaian Terhadap Rohingya Adalah Konflik Agama?", (Author), published in Republika Online, 7 September 2017
"Vonis Ahok dan Rezim HAM Internasional" (Author), published in Republika Online, May 16, 2017
"Extremisme Islam pada Pilkada DKI" (Author), published in Republika Online, April 24, 2017
"Palestine acceding to Rome Statute: Prospects, Challenges" (Author) published in Jakarta Post, January 13, 2015
"Hukum Penggal Saudi Arabia, Masyarakat Indonesia, dan Hikmah Penting" (Author), published in selasar.com, June 25, 2015
For full publications (except mass media), you can access my SSRN or academia.edu page