November 20, 2012
Goodbye Jogja : Part II – The Department of Physics
II.                   THE DEPARTMENT OF PHYSICS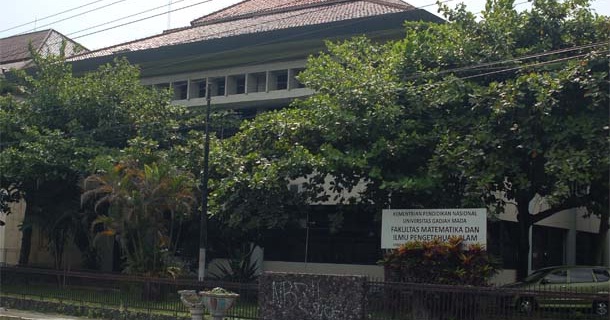 2005. It has always been a joke, the fact that I had to study 2 years in the Faculty of Mathematics and Natural Science, Department of Physics. Many of my friends always said that after I study in law for 2 years, I would move again to either philosophy or agriculture –or philosophy THEN agriculture. Entering this department was a big accident, as many may have guessed.
I used to want to be a dinosaur expert, then an animal planet guy, soldier (yes, friends, yes), musician, etc. Yet my first well-founded and planned future plan was to study international law. Especially majoring in ways to legally override sovereignty (waddya know! My thesis is about the Jus Cogens, which in theory does exactly that!). However, I had a profound hoby in philosophy, mathematics, and physics. Thus when I entered the UGM entrance test, I put law as my primary choice and physics as my secondary choice.
I didnt get in to IPS in highschool because my grades in Economy and Geography really sucked bad. Plus I didnt study at all, like seriously completely at all, for the UGM entrance test. Of course I failed to enter Law. However, the IPA test wasnt too hard. I did excellent on both math types (basic maths and math for science), I did okay on physics, and I know I suck on biology and chemistry so I just did what I can. Certainly, I managed to qualify for the Department of Physics.
Studying in physics was very interesting, most especially classes of Professor Muslim (Basic Physics) in chamber M2-09. Monday, 9am. My "first class" was interesting (check my article : "Test in Life: Reflection of an Insignificant Experience"). But studying in general was just here and there. I had classes that seemed very awesome such as the one with Professor Muslim, which seemed sophisticatedly interesting and extremely high-phased but nobody could answer his test for YEARS. I also had a few classes on calculus where I knew I could have gotten very high scores but then the lecturers dunked my score to E and C only because I never attended class (compare to maths for physics class, where I got B despite never coming to class and infact missing the mid semesters –I personally think the lecturer was drunk). Special thanks to Dr Anwar Dhani, my faculty advisor. He was a very old and wrinkled and wretched expert in atomic physics, and his voice is so small that I must put effort in listening despite the silence in the surroundings. However, he was very VERY kind to me.
The friends there were really interesting. The campus was dominated by islamic moderate societies, and I mostly was hanging out with them. But my classmates, other than from that group, were very memorable. I remember hanging out with Juju, Yoyog, Parman, Tubagus, Liya, Friska, Asna, and so many others. They were very nice, and I thank them very much for all the good times we had. Of course, we had this friend whom was such a darling –convinced the whole class to conspire in not submitting a very difficult homework, but then she herself secretly submitted it. For this chap, how about f*ck you.
Half of them are married now. I really regret never being able to attend any of their marriages.
But with some of these friends, especially Ditto and Asrykin, I had really interesting discussions which I will never forget. We discussed a lot on theology, how to actually deduce conclusions and perceive theology. I enjoyed discussing the science of theology, as in whether God exists and to what extent does God influence life of humanity, especially with a mathematics-based analysis. At the time, I finally met friends whom can discuss such issues with me. Among the biggest things I managed to conclude was how to justify that the way we explain God and God-related stuff should be under a different kind of logic. Just like how identifying carbohydrate levels and humidity levels could not be done with the same method, but they must all be done under similar generally accepted principles of science –a grundnorm.
From that point on, I have always enjoyed discussions and even debates about religion especially on the basic assumption of God's existence. Of course, one discussion/after another has brought me more knowledge, angles and depth of analysis. However the grundnorm I obtained from the discussions with my friends from Physics has always been the basic premise I upheld –thus the name grundnorm.
Another part of Physics which I enjoyed quite a lot was joining Media Informasi Islam -an islamic journalism club. One fact was that the faculty was dominated by hard-line moderate muslim societies which are controlling almost every communities. In MII, I remembered authoring an article on how islamic is also acceptable to common sense. The article was initially posted on the walls of our mosque, but it was soon removed because "this is work of a liberalist!" I got many interesting perspectives here which really enriches my views.
Perhaps God does have a good sense of humor, shown when I reentered the UGM Entrance test in 2007 to move away from Physics and enter law. I had to do the test in that very same building and chamber M209 where I had my first class in Physics. Professor Muslim also died somewhere around that time.
This time I studied really hard for two weeks and practically became nocturnal. For the first time in history, I scored higher in Economy than I did in maths. Then 2-3 months later, I received an SMS from the University stating that I have been accepted in the Faculty of Law.
(Next is Goodbye Jogja : Part III – English Debating and Jogja Debating Forum)