December 20, 2012
Resep Asik Fajri: Fried Dory with Milk Batter
To be fair and honest, this is not an original recipe. I adapted this from a few recipes I found online. Most of them recommended me to use lager or beer also as mixture, but since consuming alcoholic beverages is against my belief (in whatever way other than for emergency) so it will not be inserted.
Anyhoo, I tried it out twice. The first attempt failed. It was still delicious, but it was messy (I forgot to add eggs to the ingredients!). The second attempt was magnificent and extraordinarily delicious! The sensation of the soft dory flesh melting in your mouth, seasoned by the batter conjuring a savory aura, it was super!!!
Here goes the recipe. Feel free to try it, and if you have any inputs to improve this recipe please let me know!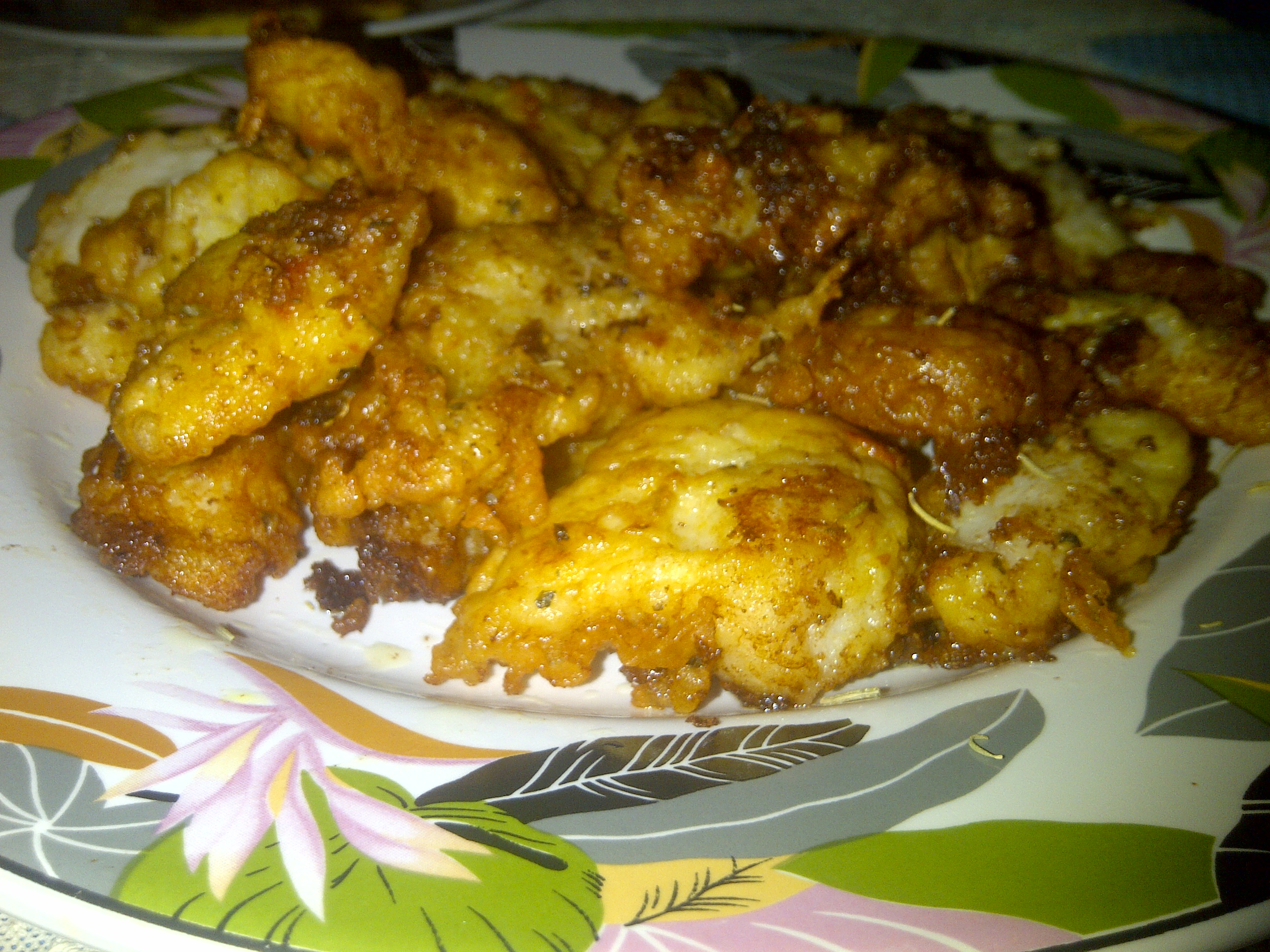 INGREDIENTS:
Le Fish
Fillet of dory fish (as much as you want/need, sliced in any size or shape you want), marinated
Marinade
Garlic
Tumeric
Water
Batter
Fresh plain milk
Rice flour
Frying flour
Salt
Pepper (black is preferable)
Dried thyme
Eggs
Other Ingredients
Vegetable oil
MAKING THE STUFF
A.      Preparing the Fish

Take as much dory fillet as you want/need/have, slice them up in any size and shape that you like
Crush and grind the garlic and tumeric together as much as you like (for around 300 grams of dory fillet, I used three huge cloves of garlic and a 1.5 cm lump of tumeric), and mix it in water enough to drown all the dory fillet
B.      Preparing the Batter

Insert to a container an amount of rice flour, frying flour, and fresh milk with the proportion of 1:1:2 (How much? Just adjust to the amount needed later to cover all the dory fillet)
Add one beaten egg (or two, depending on how much batter you are making. For my 300gr dory fillet, one egg did the job)
Add 1 tbs of the dried thyme
Add salt and pepper to taste (I did not use any, as my frying flour was already seasoned)
Stir everything until perfectly disolved
C.      Frying

Prepare the dory fillet, and take them out of the marinade (make sure that the dory is not dripping wet with the marinade anymore!)
Prepare a non-sticking flat frying pan, and heat up some oil enough to cover at least ¾ of each piece of the dory fillet with a medium flame
When the oil is hot enough, coat the pieces of dory fillet with the batter (make sure that it is just enough to cover the fillet, we do not need it to be dripping wet with excessive batter), and insert it into the frying pan.
Continue frying until the batter turns golden-brown (or alternatively, to taste).
Rest it for around 5-15 minutes
Eat up!
SOME COOKING TIPS (BOTH FOR THIS DISH AND FOR COOKING GENERALLY)
To crush and grind garlics, it is best to use a manual stone hand grinder. I understand that it does take much more practice and energy than a blender does, but doing it manually would release better flavor
Instead of pealing garlics with a knife or scissors which is more time consuming, just plunge the whole things into the grinder. Hit or crush the garlic clove (be careful not to make the garlics fly around!), and you will see that the peel will be easily removed by hand in one or two moves. Then you may continue grinding the garlic.
To check whether the oil on your frying pan is hot enough, dip in any wooden object in to the oil. If bubbles sizzle around the wooden object, then the oil is hot enough.
Do not fry too many pieces at the same time. It is recommended to only put in as much as the flat frying pan fits, and still having enough space between each pieces to enable you to flip each piece without accidentally crushing the one next to it.
It is best to use enough oil to perfectly cover everything so that you will not need to turn the fillet every other minute. But that takes a lot of oil, so just covering ¾ is okay, and then you will need to turn over the fillet at the right times
When the fillet is ready, it is recommended to drain off the oil and then resting them on any (clean) oil-absorbant paper/tissue/cloth. While fried food are delicious, actually oil is not too healthy for us. Therefore, it is best to reduce excessive oil as much as we can from the fillet.
For other original or modified recipes, check here