September 23, 2017
REZIM HAK ASASI MANUSIA DAN KEDAULATAN NEGARA DALAM HUKUM INTERNASIONAL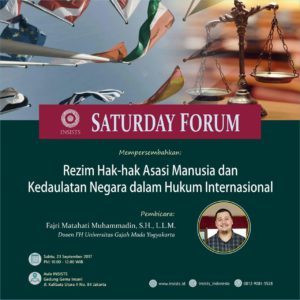 REZIM HAK ASASI MANUSIA DAN KEDAULATAN NEGARA DALAM HUKUM INTERNASIONAL
Oleh: Fajri Matahati Muhammadin*
Makalah disampaikan pada Kajian Saturday Forum yang diadakan oleh the Institute for the Study of Islamic Thought and Civilizations (INSISTS), Jakarta.
(makalah ini sudah diolah ulang dan dipublikasikan di antologi :Dr Al-Khaniff et al (Eds), "Hak Asasi Manusia: Dialektika Universalisme vs Relativisme di Indonesia", published by LKiS Yogyakarta, 2017. Versi publikasi dapat dibeli online, tapi untuk PDF khusus chapter saya dapat didonlot di sini).
ABSTRACT
Are we in favor of human rights protection? Or do we prefer tirany and persecution towards it? It seems like an easy choice, yet such questions are a false dilemma as if there are only two choices: 'you are either with us or against us'. While we may have to critically ask: who is 'us'? Is this 'us' the only truth, or the best truth?
This lecture will engage in a discussion on human rights from an international law perspective with a postcolonial approach. It will be seen how colonialism was very sentral to the hegemony of western thought in the development of international law, and how the pattern has repeated itself in the modern era. This starts with the shaping of the concept of 'sovereignty' and then on 'human rights'. It is hoped that scholars of international law and world leaders would –in their own capacities—lead and direct the development of international law especially on human rights so that it can be more fair and inclusive towards the diversity of views that exist.
INTISARI
Apakah kita menginginkan perlindungan hak asasi manusia? Ataukah menginginkan kedzoliman terhadapnya? Dua pilihan ini tampak terlalu mudah, tapi ternyata dalam penerapannya merupakan false dilemma seakan-akan pilihannya hanya dua: 'you are either with us or against us'. Padahal, siapakah 'us' yang dimaksud? Apakah 'us' ini adalah satu-satunya yang benar, atau bahkan satu-satunya yang ada?
Sesi kali ini akan menyelami hak asasi manusia dari sudut pandang hukum internasional dengan pendekatan postkolonialisme. Akan dilihat bagaimana kolonialisme adalah sangat sentral pada hegemoni pemikiran barat dalam perkembangan hukum internasional, dan bagaimana di era modern ternyata polanya tampak berulang. Hal ini dimulai dari pembentukan konsep kedaulatan, dan kemudian juga pada hak asasi manusia. Para akademisi hukum internasional dan pemimpin dunia harus terus bergerak dengan bidangnya masing-masing untuk mengarahkan hukum internasional pada umumnya dan hukum HAM pada khususnya untuk lebih fair dan inklusif melibatkan keanekaragaman perspektif yang ada.