November 17, 2018
(Part 3 of 4) Faith4Rights: The Beirut Declaration, and the 18 Commitments: A "Short" Critical Review by a Muslim (Part 3 of 4)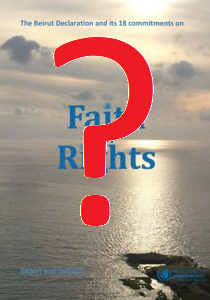 After previously discussing Commitments I-III, inshaaAllah we will now continue to discuss Commitments IV to X (+XII and XIII).
COMMITMENT IV:  TO PREVENT THE NOTIONS OF "STATE RELIGION" AND "DOCTRINAL SECULARISM" FROM BEING USED TO DISCRIMINATE OR REDUCE THE SPACE FOR DIVERSITY OF RELIGIONS AND BELIEFS 
This Commitment is similar to COMMITMENT VI: TO STAND UP FOR THE RIGHTS OF ALL PERSONS BELONGING TO MINORITIES AND TO DEFEND THEIR FREEDOM OF RELIGION OR BELIEF, PARTICULARLY IN CULTURAL, RELIGIOUS, SOCIAL, ECONOMIC AND PUBLIC LIFE. It is also similar to COMMITMENT IX: …TO CONDEMN ANY JUDGEMENTAL PUBLIC DETERMINATION BY ANY ACTOR WHO IN THE NAME OF RELIGION DISQUALIFIES THE RELIGION OR BELIEF OF ANOTHER INDIVIDUAL OR COMMUNITY OR COMMUNITY IN A MANNER ("…that would expose them to violence in the name of religion or deprivation of their human rights." – I had to put this part in a bracket because it is not bolded in the document, but not inserting this part would make it sound like the religions not having rights to maintain its 'truth claim').
and I may have some agreements with them. In an Islamic context, as explained in my comment towards COMMITMENT I, it would be incorrect to impose Islam upon the non-Muslims. So, in this sense, Islam and an Islamic State does leave room for other faiths to worship unharmed by the Muslims.
However, we have to be careful not to generalize too much. The term 'discrimination' will be tricky one. Let us just start with an example. In case of leadership, Islam teaches that only a Muslim may be a leader. Does this discriminate the non-Muslims? Yes, in the sense that the non-Muslims will not have access to leadership. Let us add that, in a true Islamic state, non-Muslims will pay a tax called jizya which the Muslims do not pay, but they do not pay Zakat which only Muslims pay: each of these can be seen as 'discriminatory' and 'exclusionary' at a glance (I believe it is not, there are longer discussions on the matter, but lets keep it for another day).
This is therefore related to COMMITMENT X: NOT TO GIVE CREDENCE TO EXCLUSIONARY INTERPRETATIONS CLAIMING RELIGIOUS GROUNDS, which adds also in a "…manner that would instrumentalize religions, beliefs or their followers to incite hatred and violence..." (which I will explain in my comment to COMMITMENT VII below) and "… for example for electoral purposes or political gains."
I still have not managed to understand why COMMITMENT X puts 'electoral purposes or political gains' is an example of 'inciting hatred and violence' but let us put this aside for now.
However, what is essential to point out is this. At the same time, to force the Islamic state to change their system to allow non-Muslims to lead would then be an imposition of faith towards the Muslims to change our teachings. Ironic? Further, this, in turn, implies that the declaration seems to imply that there are principles higher than our religion which, I assume, is not and should not be what the "Faith4Rights" movement supposed to be about. Or is it?
This is where I, as per my explanation on COMMITMENT II, object to the notion that "…their right …. as recognized by international human rights law, as a minimum standard of solidarity among all believers..." in this Commitment. Jointly read with Commitment II, this means that either religious standards are equal to international human rights standards (which is not true in some areas), or –as Commitment VI suggests– the latter is higher than the other. This is something that Islam can never accept.
The truth is that these issues cannot always be reconciled doctrinally. How to deal with this? All I can say as a Muslim: lakum diinukum waliyadiin (unto you is your way/religion, and unto me is mine). The solution towards it is never EVER to force Islam to change our teachings, even when dubbed with 'new interpretation' because as is the case of the ICCPR: not all interpretations are correct. Note that I do not speak for other faiths, as some of them seem to have scriptures subject to revision every now and then within their own doctrine, so maybe that could work for them. It is ironic to demand us to be tolerant, while this Faith4Rights commitments do exactly the opposite.
So what I can accept from these Commitments, at least in an Islamic context, is to have it understood flexibly in a way that it only condemns what is 'commonly agreed to be condemnable' by all faiths, and to ditch the international human rights standards part. Although, as I mentioned in my comment to Commitments II, I highly doubt that a 'commonly agreed' standard could reasonably be achieved.
COMMITMENT V: TO ENSURE NON-DISCRIMINATION AND GENDER EQUALITY, PARTICULARLY REGARDING HARMFUL STEREOTYPES AND PRACTICES OR GENDER-BASED VIOLENCE
This is one Commitments that I do not wish to discuss too long, because the matter is quite simple and has been discussed in various other forums that it is tiring. In general, I agree with this Commitments. Prophet Muhammad s.a.w. was sent in a time where, among other social calamities, discrimination of the sexes was very bad and he s.a.w. made reformations towards the social conditions.
However, I can never emphasize enough on how important it is to realize that there are different concepts of 'gender equality' out there. Even the feminists argue amongst themselves on which version of 'equality' do they want. I wish to make a specific mention, which I have repeatedly done in a few other publications I have made, to what the Committee of the Elimination of Discrimination Against Women (a treaty body under the Convention on the Elimination of Discrimination Against Women) said about Article 16 of CEDAW which speaks about family relations and law.
While throughout the preamble and early articles of CEDAW the term 'equal rights' was used, Article 16 used the term 'same rights'. I think I need not to explain the difference of meaning between both terms, nor do I need to highlight that there is a special meaning as to why there was a shift of term used. Naturally, quite a large minority of state parties (much over 20) made reservations either wholly or partially towards this article. Among these reserving states are not just Muslim states but others too, such as the United Kingdom. But what did the Committee of EDAW say?
In their General Recommendations No. 21 , they said that they regretted the reservations towards Article 16 because it 'defeats the objects and purposes of the CEDAW'. It is as if there is no recognition towards different concepts of equality, and that there is a sense of superiority towards the nations who are the actual parties. They just cant stomach the idea that there are other gender relation concepts.
Now the Islamic concept of Gender Equality has been subject to debate for a long time, and I am not interested to indulge in it today. Suffice to say that if this declaration was intended to be FAITH-based, then it should accommodate the standards of Gender Equality of different faiths Including Islam.
In other words, just like in my comment on the previous Commitment, I only agree with this Commitment if it is understood to include the Islamic teachings of gender equality.
=============
Note: just in case you missed it, COMMITMENT VI is not here because I have commented on it together with COMMITMENT IV above.
=============
COMMITMENT VII: TO PUBLICLY DENOUNCE ALL INSTANCES OF ADVOCACY OF HATRED THAT INCITES TO VIOLENCE, DISCRIMINATION OR HOSTILITY IN THE NAME OF RELIGION OR BELIEF
Now this is a very popular line. I remember arguing with Mr Ibrahim about this issue of 'hatred', but now I realized that in my argument with him I missed the '… that incites to violence…' part. Therefore, the things I said that night concerning this were unfortunately irrelevant towards the point we were supposed to be discussing. This Commitment is something that I may have some agreements with, with minor modifications towards it.
The first thing I would like to highlight from this Commitment is the "… in the name of religion or belief" part. In terms of general common sense, it is not always wrong to do particular actions in the name of something. I think I need not to explain that there is use and abuse possible, and there could be attribution as well as false attribution. So what we must do is examine carefully what is the particular action referred to, and compare it to the 'something' it is done in the name of.
The next thing to highlight is the "…all instances…" part. This would imply that there are no instances where incitement of hatred and hostility may be done in the name of religion. Is this correct? I think that many people with Michael Jackson's Heal The World playing in their head would rush to say yes yes yees, but this is simply not true. This is a statement of ignorance towards the realities of war.
We can discuss in great depth on this topic, but suffice to say that if we can find 'one instance' where such 'advocacy of hatred to incite violence' can be correctly attributed to religion then this Commitment falls. "All are.." is falsified by "one is not", correct?
I understand that wars are terrible, and we don't like the horrors and suffering it causes (plays 'Heal The World' in the background). But precisely that is where hatred and violence takes it play. When an aggressor destroys your lands, kills your people who are not combatants, is this really a time to speak of 'mercy to your enemies' or 'turn to your other cheek'? Muslims are not pacifists, but we put hatred and violence in its correct place. I am sick of people saying "the Palestinian resistance is not religious, rather it is mere self-defence" because self-defence is a legitimate cause for jihad fi sabilillaah!
This is one instance of hatred and violence which I think can be agreed by all except those who are living in an imagined utopia. Therefore, the Commitment cannot say 'all instances' because it simply is not correct. Maybe the term 'abuse' or 'misuse' could be put in there so that it does not imply an overgeneralization. We all disapprove of the misuse of religion, but I have problems with actions which are truly based on my religion but dismissed on the basis of overgeneralized and simplistic notions like this.
Note: I understand that some people would worry if such hatred will lead into retaliation to also kill civilians of the aggressor or other war crimes, then I would say that this is where we teach religion holistically and not in parts. In Islam, hatred towards kufr is prescribed but in context of war we have comprehensive laws and ethics to abide by. You cant just do the hate part while disobeying the laws of war. On the other hand, you cant go to war while smiling at the enemy and saying salaam either as you shoot. But this is Islam, probably there are other religions who do not have comprehensive laws of war so I do not speak for them.
Note also: This is also related to COMMITMENT XII: TO REVIEW THE CURRICULUMS AND TEACHING MATERIALS WHEREVER SOME RELIGIOUS INTERPRETATIONS SEEM TO ENCOURAGE OR TOLERATE VIOLENCE OR DISCRIMINATION as well as COMMITMENT XIII: TO ENGAGE WITH CHILDREN AND YOUTH, WHO ARE EITHER VICTIMS OF OR VULNERABLE TO INCITEMENT TO VIOLENCE IN THE NAME OF RELIGION, which I can accept as long as understood as per my commentary on this section.
=============
Note: just in case you missed it, COMMITMENT VIII is not here because I have commented on it together with COMMITMENT II in the previous page. COMMITMENT S IX-X  are also not here because I have commented it together with COMMITMENT IV above.
———————————-
CONTINUE TO COMMITMENTS XI – XVIII ===>