November 17, 2018
(Part 4 of 4) Faith4Rights: The Beirut Declaration, and the 18 Commitments: A "Short" Critical Review by a Muslim (Part 4 of 4)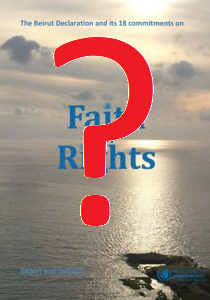 After previously discussing Commitments IV to X, inshaaAllah we will now continue to discuss Commitments XI to XVIII.
COMMITMENT XI: NOT TO OPPRESS CRITICAL VOICES ON RELIGIOUS MATTERS IN THE NAME OF "SANCTITY", AND TO ADVOCATE FOR REPEALING ANY ANTI-BLASPHEMY AND ANTI-APOSTASY LAWS
This is a topic that is very highly contentious in the Muslim world, and I would take my time in elaborating my thoughts on this one. To the extent of my knowledge, the background of this matter was how the Catholic Church responded to the 'heretics' many many hundreds of years ago, so that the true aim was to protest against oppression of tyrants (please correct me if Im wrong). While we must not forget how the tyrants in the Muslim world came into power (and who gave it to them), this is a serious matter indeed. In Sahih Muslim, Abi Dharr (r.a.) narrated that Prophet Muhammad s.a.w. said that Allah says:
يَا عِبَادِي إِنِّي حَرَّمْتُ الظُّلْمَ عَلَى نَفْسِي وَجَعَلْتُهُ بَيْنَكُمْ مُحَرَّمًا فَلاَ تَظَالَمُوا
"O My slaves, I have prohibited Myself injustice; and have made oppression unlawful for you, so do not oppress one another."
Such a powerful, powerful narration. However, we must consider the issue very carefully:
On one hand, under the Islamic doctrine one would certainly not be allowed to make heretical interpretations. No law would allow something like that, except some terribly misguided laws. The truth is that there is sanctity in the Shari'ah, and this certainly has consequences. I reject those who dismiss this as mere 'fiqh is interpretations of scholars, who are not –in themselves—holy'.
On the other hand, we cannot deny that religious interpretation has been misused to justify oppression. We have many cases of people hiding behind the robes of sanctity while committing everything the religion is against. The Catholic Church is all to familiar with this, and the Muslim world –to some level—is suffering the same.
We cannot find a solution by extremely inclining towards one side. Stripping off Islamic laws from its sanctity, and allowing any interpretation to be made, are ridiculous. However, surrendering to tyranny who misuse the sanctity of Islam is definitely not an option.
Having that said. Civilians have rights to convey their grievances towards the ruler in a civil fashion, and the ruler must facilitate this in a way that is fair and just. They may have questions together with concerns towards how the religion is implemented, and a proper facilitation could have these questions answered and grievances addressed. This is hard if the ruler is 'way above the sky' and not 'in the ground' with the people. Legitimate scholarly discourse should be open as to how the Qur'an and Sunnah is to be interpreted, as it is open today. However, I think everyone would agree that limits must be set, and limits have been set. Im sure everyone agrees that Da'esh interpretations are beyond the acceptable limits.
However, I would encourage people to understand that Islam is not secular, meaning that it is not mere materialistic. Harm, in Islam, refers not only to material harm but also immaterial harm including metaphysical ones such as aqeedah. Da'esh interpretations are heretical not only because it results in killing people, but more importantly –on a theological ground—the creed that they hold is not in accordance with that of the ahlus sunnah wal jama'ah i.e. the true Islam. My point here is that heresy is determined not only by virtue of material harm. There are tolerable differences of opinion (such as where to put the hand while standing in shalat), while there are differences so fundamental they cannot be tolerated (such as the khawarij belief, which Da'esh to some extent has).
Who has the authority to determine what is correct or not? As a matter of theory, it is Allah and His Messenger (see Surah An-Nisa verse 59). In practical reality, it is the role of the scholars to determine this and the government acts upon it. Now I do understand that governments do not always do the right choice. However, this is simply because we are humans. This problem is not unique to the Islamic (or other religious) world. Let us see the doctrinal secularism imposed by Turky up to Erdogan's rule, or also the Burqa ban in France. We may debate all day about those issues, but the point is that the potential of bad interpretation does not mean that we disapprove the entire system altogether.
Therefore, to answer the first part of the issue in this Commitment: yes we may not oppress 'critical voices' altogether but critics should be addressed and facilitated in the best way possible in its proper place. Here, Muslim rules as well as activists must really pay attention. So the first part of this Commitment is something I may be able to accept but with heavy notes on how to understand it.
–
The second part on abolishing anti-blasphemy and anti-apostasy laws is something more straightforward.
Blasphemy is wrong and not part of freedom of expression. What the Human Rights Council said in General Comment 34 is their right, but this is just not true for others. The Human Rights Council does not represent any universal interpretation in this case. Even the European Court Human Rights in E.S. v Austria (2018) recently ruled that imprisoning a person who defamed Prophet Muhammad s.a.w. is not a violation of human rights.
Many rely on the narration how Prophet Muhammad s.a.w. always forgave those who insult him. However this is not the case. The story of the Jewish elder who spat on the Prophet was a fake story, although the case of Thaif (where the people spat and threw stones at him) was authentic. Let us not forget about the fate of Ka'b bin Malik. The truth is that Prophet Muhammad was forgiving if it was him personally who was insulted, but not when Islam wa insulted. Note there are a number of authentic accounts about the sahabah hitting or even killing people who insult Islam or Prophet Muhammad and the latter did not reprimand the said sahabah. Unanimously, the ulama ruled that a Muslim insulting Islam is tantamount to apostasy and punishable by death. A non-Muslim insulting Islam is a matter of ta'zir which is up to the ruler.
PS: I would certainly understand how the term 'blasphemy' can be understood too broadly. I agree that the Ahmediyya should be declared as heretics and that the leaders should be criminalized, but I disagree on how the basis of the criminalization was 'blasphemy'. It was just stretching too far. There are proper scholarly interpretation of 'blasphemy' (istihza bi al-diin) and we can just stick to that.
.
As for apostasy, this is a topic which is very difficult today. I will not dwell deep into it, as it will take too long. Just to summarize the issue, the penalty for apostasy –albeit with rather lengthy procedures and requirements—in Islam is death. There is authentic daleel from the Sunnah for this, and there was a scholarly consensus (ijma) on this matter (except the Hanafis who say that woman apostates are supposed to be locked in their house until their repent but no death), and when there is daleel especially added by an ijma, it is heresy to go against it. This is a fundamental theological ground which is not subject to change in time.
The only way to go against this is to say that the daleel is not supposed to be understood in that way AND that there is no ijma on the matter. Some modern scholars have messed up interpretation while misquoting (either deliberate or not) past scholars like Umar ibn Al-Khattab on his rulings, Imam Al-Sarkhasi in Al-Mabsoot, Imam ibn Taimiyyah in Sarim al-Maslul, or others. My Ph.D supervisor Assoc. Prof. Dr Mohd. Hisham Mohd. Kamal has refuted such interpretations and false claims on past scholars in a book chapter, however it is in Bahasa Melayu so English speakers may not be able to read it. Maybe I will translate it one day.
–
The main point here is that blasphemy and apostasy is not a right. The Beirut Declaration and the 18 Commitments did not say this that blasphemy is a right (does seem to imply that blasphemy is part of freedom of expression) but they clearly said that apostasy is in Commitment XV, and this is not correct. Islam does not acknowledge such rights. If something is not a right, then it is not inconceivable that this 'something' could be criminalized.
This relates to COMMITMENT XV: NOT TO COERCE PEOPLE IN VULNERABLE SITUATIONS INTO CONVERTING FROM THEIR RELIGION OR BELIEF, WHILE FULLY RESPECTING EVERYONE'S FREEDOM TO HAVE, ADOPT OR CHANGE A RELIGION OR BELIEF. The first part of this commitment (not to coerce) is agreeable as I mentioned my comment to Commitment I. However, the second part (respecting) is disagreeble in terminology in the framework I set also in Commitment I, but special mention on Changing Religion which I partially disagree.
I understand how some people would find it confusing as to why Islam allows non-Muslims to convert to Islam, but not allows anyone to convert from Islam to something else. However, such confusion is because they consider different religions as if they are different places of employment where it is our choice where to go and when to move. To worship God (and I mean the correct God i.e. Allah) in Islam is a purpose of life, and an obligation as I explained in Commitment I. To disbelieve is not a right and is punishable. Its just that from that all disbelievers Allah tells us to punish only the apostate kind of disbelievers, while the rest is His business to deal with. There is a longer discussion on this matter, maybe we can do so for another day.
============
Note: just in case you missed it, COMMITMENT XII and COMMITMENT XIII are not here because I have commented on it together with COMMITMENT X in the previous page.
============
COMMITMENT XIV: TO ENSURE THAT HUMANITARIAN AID IS GIVEN REGARDLESS OF THE RECIPIENTS' CREED AND THAT AID WILL NOT BE USED TO FURTHER A PARTICULAR RELIGIOUS STANDPOINT
I think this commitment is the one which I have most agreements with, although, still, not without qualification. I think that it is wrong to deny war or disaster victims from aid especially in their most vulnerable situations. There are numerous verses of the Qur'an and ahadith demanding and commanding us to help, and I do not recall any saying '…except kafirs.' And, to live up to this, we have tons of Islamic societies and nations sending humanitarian aid all over the world including to non-Muslim lands suffering from disasters.
However, the 'not used to further a particular religious standpoint' is something I have troubles with. If it is understood to prohibit practices of 'convert and we will give you aid' then I agree. However, I disagree if this means that the Muslims delivering aid cannot make da'wah while delivering this aid (so long as it does not make any form of discrimination in delivering such aid in the process).
I would like to make special mention on a particular issue on this. So there is a sunnah of giving gifts to those who have recently entered Islam, which may very well potentially be seen as discrimination. I think the Ulama should talk about this. However, one may give gifts that has nothing to do with the aid. For example preparing free books or hats (instead of food or clothes), or something like that I could be wrong this surely requires further discussion.
============
Note: just in case you missed it, COMMITMENT XV are not here because I have commented on it together with COMMITMENT XI above.
============
COMMITMENTS XVI, XVII, AND XVIII: "TO LEVERAGE THE SPIRITUAL AND MORAL WEIGHT OF RELIGIONS AND BELIEFS IN ORDER TO STRENGTHEN THE PROTECTION OF UNIVERSAL HUMAN RIGHTS AND DEVELOP PREVENTATIVE STRATEGIES", "…TO DEVELOP SUSTAINED PARTNERSHIPS WITH SPECIALISED ACADEMIC INSTITUTIONS TO PROMOTE INTERDISCIPLINARY RESEARCH, PROGRAMS AND TOOLS ON THE IMPLEMENTATION OF THE 18 COMMITMENTS", AND "…TO USE TECHNOLOGICAL MEANS MORE CREATIVELY AND CONSISTENTLY IN ORDER TO PRODUCE CAPACITY-BUILDING AND OUTREACH TOOLS AND MAKE THEM AVAILABLE FOR USE AT THE LOCAL LEVEL"
To me, these last three Commitments are essentially one thing: to make sure of proper implementation of the 18 commitments. I do not have much to comment on here except a simple one. I agree that these three commitments are essential in promoting something, so that to promote something good then they must indeed be done.
The question is: are they promoting something good?
Commitments XVI to XVIII essentially set implementation measures towards 'universal human rights' and 'The 18 Commitments'. In my view, I can only accept these commitments to the extent that they do not harm the interests of the Shari'ah especially not demanding modifications of the teachings of Islam as per the comments I have made on Commitments I to XV throughout this commentary.
EPILOGUE
Us Muslims believe in Allah and His messengers, and Prophet Muhammad s.a.w. is the last of those messengers. We believe that the Qur'an is Allah's Words and it cannot be incorrect. Neither can it be irrelevant as time goes by, nor is it revisable. Prophet Muhammad s.a.w. was sent to spread this message to all creation, and the truth of this message does not depend on the subject. This is a message to all, the question is whether you accept it or not. This is our choice, and we will get the consequence of our choices. It is our choice to stand firm in our religion, and for those who choose not to then be prepared to reap the consequences. Allah is Merciful and Just, Allah is Wise and Mighty.
Again, I would like to emphasize that Islam DOES provide human rights. Look at the history of Islam. There are endless examples of merciful reforms and laws from Islam. However, we may not understand human rights the same way as international human rights does. In some parts we may agree, but on other parts we dont. Working together for humanity is not something Muslims cannot do and actually it is something we surely have been doing, but there are certain things that we cannot compromise. We can agree on things that we do agree, but we cannot agree in all things because we cannot deny that there are matters where we fundamentally disagree on. We may have homework in developing our fiqh on some detail, but to demand the Muslims to change fundamental parts of our religion. When any (alleged) Muslims do that, at that point they cease to be Muslims.
Do not say 'if other faiths may compromise their teachings, why wont you?". What other faiths do is up to them. In Tafsir ibn Kathir, it was authentically narrated that Prophet Muhammad s.a.w. was offered by the mushriks to an interesting deal. They offered to pray to Allah for some amount of time, as long as Prophet Muhammad s.a.w. would pray to their Gods for some amount of time, and they will take turns. This was when Allah revealed Surah Al-Kaafiruun. Feel free to read it, that Surah will suffice to answer this question.
============================