November 25, 2013
Resep Asik Fajri: "Bakwan Udang Accident"
Assalaamu'alaikum wa rahmatullah wa barakaatuh,
Dear all, it has been a while since I last shared some recipes that I tried. So, after dreaming about Bakwan Udang for a while, promising myself to only try this recipe when I have finished two (out of three) of my essays. So this is what I did. Bakwan Udang Accident.
Bakwan is a kind of fry that is pretty much similar to Indian Pakoras or Bhajis but perhaps with different touches of spices or ingredients. There are generally three types of Bakwans: sayur (just veggies), jagung (corn), or udang (prawn). As you can guess, I made the prawn one.
Before I go to the recipe, I would explain the title of this post (ergo, the name of this dish). I titled it because it involved three accidents, therefore *drumrolls*: "Bakwan Udang Accident" is what I call it. Here are the three accidents.
I finished both essays (International Criminal Law, max 3000 words, and Fundamental Issues in International Law, max 4000 words) on Saturday around Maghrib time (4pm). I knew that those maximum words excluded the footnotes. My mistake was that the 'word count' settings on my MS Word was set to include footnotes, despite not being highlighted. So I then realized that I was short 900 and 1000 words on each essays respectively. So I went on rampage, finishing everything that night non-stop until 4am, and rewarding myself with Chikies Fried Chicken YUM
The instructions on the bakwan flour told me to mix 100gr of the flour with 120 ml of water. Since I had no means of precise measuring, so I just thought that I just needed to add water 120% the amount of flour (volume-wise). But it slipped through this stupid thats-why-I-got-out-of-physics guy that GRAMS do not equal to MILILITRES. I ended up using a bit over twice more water than I should. You'll see what I did to make up for my mistake
After frying, I poured the oil to a plastic container so I can use it again some other time. But once again, this thats-why-I-got-out-of-physics guy made display of his 180 IQ by pouring hot boiling oil to a plastic container. You can imagine what happened.
So anyway, this was how I rectified my mistake and conjure up something delicious anyways.
Ingredients
Prawns, peeled and chopped in small pieces (you can pre boil/stirfry it for a bit, but raw is okay)
Bakwan Flour (tepung bakwan)
Spicy Frying Flour (tepung goreng pedas)
Mushrooms, cut to small pieces
Onions, diced
Water
Oil for deep frying
How to Cook
Follow the instructions on the back of the Bakwan Flour package, the way I did it. Try to measure the volume of the Bakwan Flour and Water to be 100 : 120 respectively, then mix well. What you want is a very thick and sticky batter (Im not really sure how to describe this. Anyone who knows how to make bakwan, help?). But what you will get by doing what I did is a very fluidy liquid batter. Yep, this was the mistake.
Tips: use a big bowl or plastic container, not a flat plate
Pour in spicy frying flour and mix well as much as necessary until you get the needed thickness.
Put in the prawns, onions, and mushrooms, with a ratio of 1 : 1: 1 (or whichever proportion you wish, really), as much as you want but make sure that everything must be able to be covered by the batter. Mix well.
PS: you can actually use any vegetables, e.g. carrots or cabbage (finely chopped). Or, for that matter, any kind of meat. Or, all meats at the same time YUM.
Prepare a frying pan with loads of oil, and heat it up.
Use a spoon, and start frying the mixture spoon by spoon. Make sure you pour the contents of each spoon with a little distance between each other, so they dont stick to each other.
PS: the oil should be enough to drown the stuff.
PPS: you could use a normal spoon for eating, or a huge one, whatever, its up to you how big you want the bakwan to be
Fry until it turns brown-ish.
Serve while hot
PS: make sure to drain out the oil
PPS: its good to have it with chili sauce or fresh chilies
Now, enjooy ^_^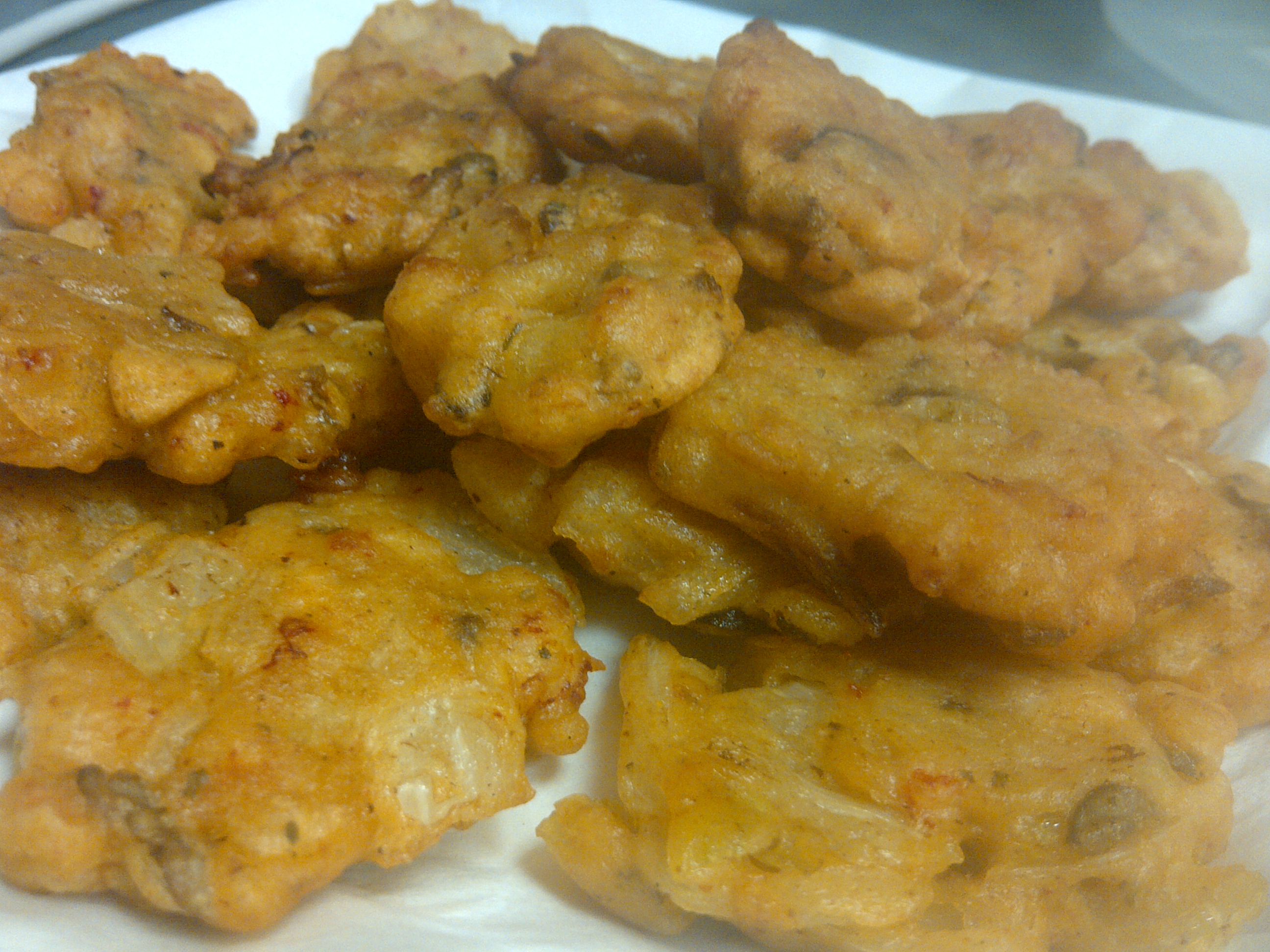 for other recipes of mine, click here 🙂