March 3, 2014
Resep Asik Fajri: Tuyums Rempong Fried Chicken Rice
This is one of the best dishes I have tried to make OMG!!!
Here goes!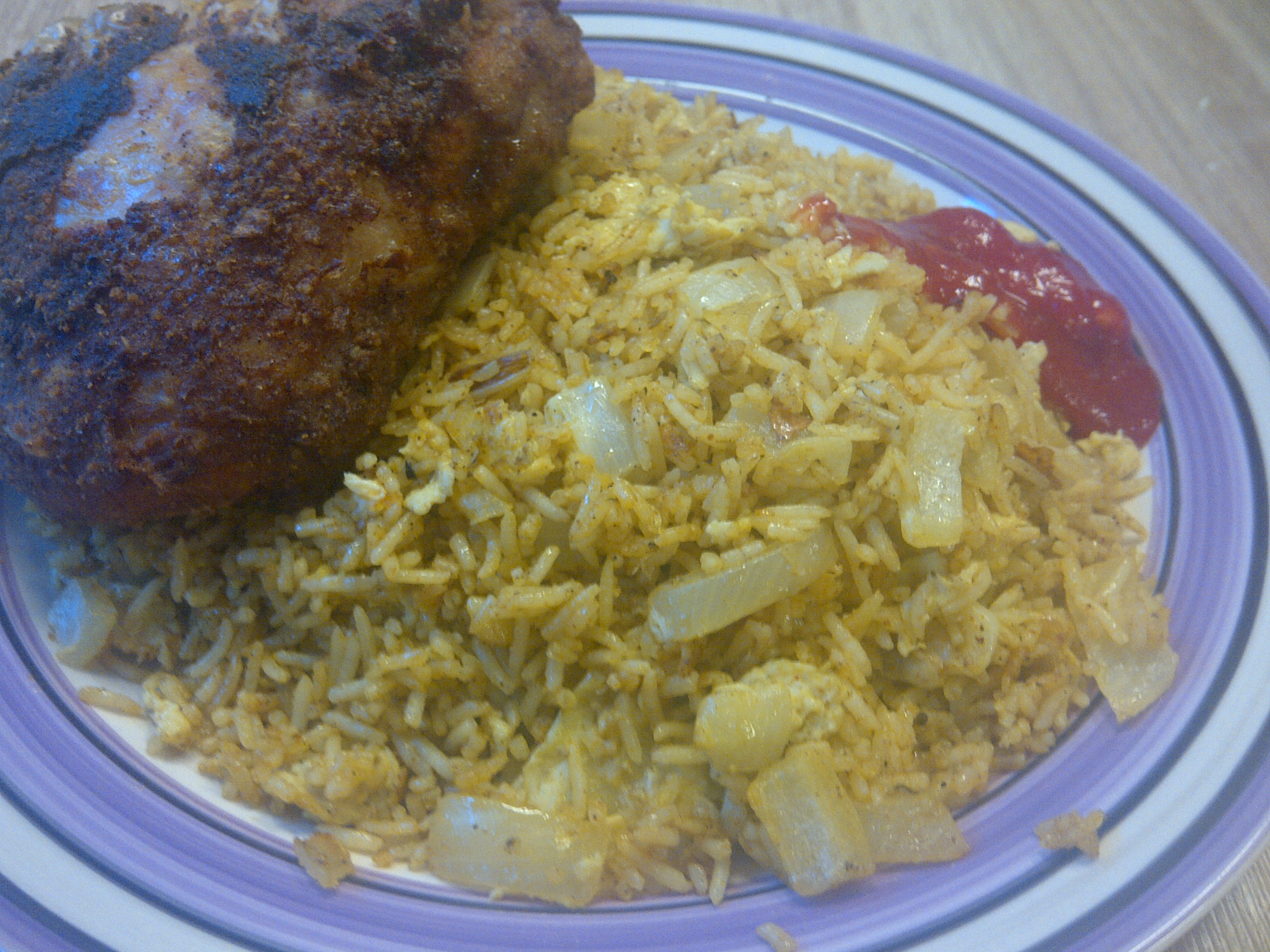 Ingredients
1. Main Ingredients
–          Chicken thigh or breast or both, poked with a fork thoroughly
–          Good basmati rice (uncooked)
2. Chicken Marinade (mix everything together)
–          Water enough to submerge the chicken (or actually, buttermilk is much better, but it would be extra expensive so I did not use it hahaha [buttermilk = fresh milk + lemon juice and zest])
–          Salt 2-3 tbs
–          Pepper 2-3 tbs
–          Extra Hot Chilli Powder to taste (I used 4 big tbs)
–          4 big garlic cloves, crushed
–          Tumeric Powder, 2-3 tbs
3. Frying Flour (stir everything together)
–          Your average frying flour.
–          Madras Curry Powder,
–          Paprika powder
(these ingredients are to be mixed with a proportion of 4 : 1 : 1)
–          Chilli Powder to taste
–          Salt 1 tbs
–          Pepper 1 tbs
4. Other Ingredients
–          Vegetable oil for frying
–          Olive oil for stirfrying
–          Your choice of fried rice ingredients (but cut off the salt!)
–          2 eggs, beaten
How to Cook
Boil the Chicken in the marinade for 30 minutes in medium heat
Use the leftover marinade to cook the rice. You know how to cook rice (otherwise, just google or ask someone, hahaha)
Dip the chicken (careful, it's hot!) in the beaten eggs until coated, lift chicken to remove excess egg, then dip into flour mixture until coated well
Put vegetable oil into a deep frying pan, put flame to medium high heat, and when oil is already hot, insert the chicken, fry until chicken becomes brown (depending on taste. I like it dark brown)
While waiting, cook fried rice with the rice you just made. This is my choice of making fried rice (including ingredients):
–          Heat 2 tbs of olive oil + 1 tsp of margarine
–          Stir in half an onion, diced, and three cloves of garlics, crushed and minced, then stir fry until smells nice
–          Stir in two beaten eggs (we can use the eggs used to dip the chicken earlier), stir fry for a bit until eggs half cooked
–          Stir in the rice, stir well
–          Add some vegetables of your choice
–          Add pepper, 1 tbs, and 2 tbs of Chinese sesame oil, stir well.
–          Done!
6. Serve the chicken together with the fried rice ^_^