August 27, 2019
SOME FREQUENTLY ASKED QUESTIONS REGARDING JOURNAL PUBLICATION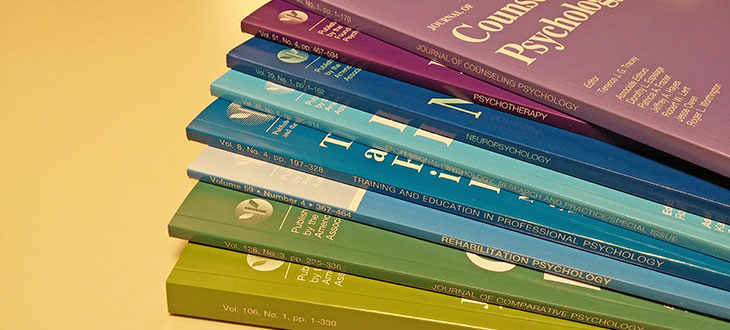 Journal publication is now increasingly becoming a requirement for graduation for postgraduate students, as well as for promotion for academics and researchers. However, for students especially, journal publication is something difficult and unknown. So many people have asked me many questions about journal publication, and I find that many of these questions are recurring. Therefore, I thought it would be beneficial to compile them in one post so I can share them for the benefit of students.
Message for the readers of this post: this list will be regularly updated, inshaaAllah. If you have a question about journal publication which is not yet listed here, please let me know, and I will do my best to add your question to this post together with the answer.
===============================
===LIST OF QUESTIONS===
QUESTION 1: HOW MANY TIMES DOES A JOURNAL PUBLISH ISSUES WITHIN ONE YEAR?
QUESTION 2: WHAT PROCESS WILL MY ARTICLE GO THROUGH UPON SUBMISSION?
QUESTION 3: HOW LONG WILL ALL THAT PROCESS TAKE?
QUESTION 4: MAY I PUBLISH MY THESIS IN A JOURNAL?
QUESTION 5: WHAT IS A GOOD JOURNAL ARTICLE?
QUESTION 6: HOW DO I CHOOSE A JOURNAL TO SUBMIT MY ARTICLE?
QUESTION 7: CAN I PUT MY SUPERVISOR'S NAME AS CO-AUTHOR?
QUESTION 8: HOW DO I FORMAT MY ARTICLE?
QUESTION 9: HOW DO I FIND IDEAS OF THINGS TO WRITE ABOUT?
QUESTION 10: CAN I PUBLISH CONFERENCE PAPERS IN A JOURNAL?
QUESTION 11: DO I NEED TO SEND MY ARTICLE TO A PROFESSIONAL PROOFREADER?
QUESTION 12: HOW DO I KNOW WHO IS REVIEWING MY ARTICLE?
QUESTION 13: WHAT IF I DISAGREE WITH THE REVIEWERS CRITICS TO MY ARTICLE?
QUESTION 14: HOW DO I SUBMIT MY ARTICLE TO A JOURNAL?
(Last Update: 27 August 2019)
=================================
QUESTION 1: HOW MANY TIMES DOES A JOURNAL PUBLISH ISSUES WITHIN ONE YEAR?
It will depend on each journal. You can find the information in the respective journal website. Some journals publish once a year, others publish twice a year, others could publish up to four a year, all depending on their capacity and management policy.
QUESTION 2: WHAT PROCESS WILL MY ARTICLE GO THROUGH UPON SUBMISSION?
This is the flow that the IIUM Law Journal uses, and most journals would do the same.
1. Your article goes through pre-review where the basic and technical aspects of your article are examined by the Editorial Board. Meaning, it will be checked whether the research design and flow is clear and reasonable, whether the arguments (at a glance) seem supported by sufficient data and literature, whether the wordcount/page count (depending on each journal) is sufficient, and also whether you fulfil the required format. At this stage, the Editorial Board may reject your article or request you to revise depending on the situation.
2. Your article goes to the review stage. Journals will send your article to a number of experts (1-3, depending on the journal policy) to review your article more comprehensively. Upon completion of the reviews, the reviewers will make reviewer reports containing an evaluation of the article as well as recommendations on whether or not the journal shall or shall not publish that article. The Editorial Board will make the final decision on this. They maybe can reject the article, submit to more reviewers if needed, request the author to revise and then review again, accept with minor/major revisions, or accept with no revisions.
3. If your article passes the review stage requiring revision, it may go through the revision stage. If the author is required to revise, then they must do so accordingly and upon revision the Editorial Board will check whether they are satisfied with that revisions. If not, the author must revise again. If yes, the article will go through the next step.
4. Your article will undergo editing and layouting by the Editorial Board. This is mostly language editing, proofreading, and page typesetting. At this stage, you just need to sit, relax, and wait.
5. The final stage, is publishing. The Editorial Board will send you the results of the Fourth stage for you to do a final check. Usually, at this stage, you check whether the author names and affiliations are correct, also if there are still any typos, and other small items. No major additions or revisions may be done to the substance, and some journals would require you to sign a "copyrights transfer agreement". If you are okay with the change and have submitted the copyright transfer agreement (or if you do not respond in time, since usually this checking stage has a very short deadline), then your article will be published on the journal website. Congratulations!
QUESTION 3: HOW LONG WILL ALL THAT PROCESS TAKE?
The process will take quite some time, as you can see it involves much work. It also involves multiple people, some of them are beyond the organizational control of the Editorial Board such as the reviewers (and authors!). So, it is difficult to point out an exact number. The IIUM Law Journal usually takes 3-4 months to process an article until Stage Four (stage Five depends on what month it is), but there are circumstances where it could be very significantly shorter or longer. There are other journals that could take 6 months to even over 1 year, depending on the amount of submissions to their journal, work of the reviewers, and many other issues as well.
Important note: when you have submitted your article, please be patient. I know how it feels, waiting for news and not knowing when exactly the news will come. I understand also that once in a while it may be fruitful to ask questions, but please don't nag too often. We have had some authors asking almost every few days. It is seriously annoying. Please consider the answers to Question 2-3 before asking.
QUESTION 4: MAY I PUBLISH MY THESIS IN A JOURNAL?
Yes and no. Yes, meaning that it is possible to publish your thesis or part of your thesis in most journals, unless the particular journal rules specifically prohibits it (I have never found any journal prohibiting this, though). However, you usually cannot just send in your raw thesis to the journal. First, you must adjust with the format of the journal. If you have read journal articles for your thesis, surely you would know that journals and theses are very different in terms of flow and format. Second, you might need to adjust the word count as well because some theses could go up to 100.000 words and no journal on earth can publish that into one article.
So, you will have two choices:
A. If your thesis is a short one (e.g. masters thesis), rewrite it into the flow similar to a journal article.
B. If your thesis is a long one (e.g. Ph.D thesis), maybe you can choose one chapter or sub-chapter, and develop it into a journal article. Remember that thesis chapters do not in themselves look like a journal article or follow the flow of journal articles, so you must adjust that.
Additional note: some chapters contain "literature review" or "theoretical frameworks". I have seen some authors trying to publish that, but ends up being rejected. Remember that literature reviews or theoretical frameworks are usually descriptive, merely outlining existing scholarship or compiling a number of different theories. Journal articles are usually argumentative research articles, which starts with a problem and continues with an analysis of that problem and ends with a conclusion. Descriptive articles are usually rejected.
Another additional note: when submitting your article, make sure you inform the Editorial Board that the article is from your thesis, and who your thesis supervisor is (if you are not putting them as co-author).
QUESTION 5: WHAT IS A GOOD JOURNAL ARTICLE?
There are a number of things that a good journal article must have:
0. It must be original and not plagiarized.
1. It follows the format required by the journal it intends to be submitted to. Please check the journal website and follow the required format!
2. The purpose of a journal article is like a research article: it is not intended to "inform the public" but to develop the existing body of knowledge and scholarship. Therefore, journal articles are not descriptive, but argumentative. It should be a research article that begins with a problem and continues with an analysis of that problem and ends with a conclusion.
3. The article endeavors to solve a problem that is academically worth answering and has sufficient novelty in the area, and you must explain why it is so in the introduction.
4. You must construct a clear and proper research design (research question formulation and research method).
5. The title must be concise, clear, represents the problem and research, and preferably interesting but do not exaggerate.
6. You do not need to achieve world peace in one article. The problem approached should be a very specific one, something reasonable to be properly analyzed in sufficient depth in one article.
7. The author evaluates the existing (major) literature around the discussed problem, analyzing the important scholarly discourse of the major arguments, and emphasizing what is new that you are bringing. This may include books, journals, thesis, etc.
8. Following No 7 above, there is a principle that may be applicable in the field of social humanities but probably not in other fields: If a research has a lot of references, it does not always mean that it is a good research. But all good researches will have a lot of references.
9. The arguments presented must be fresh, sound, well analyzed and elaborated, well referenced accordingly, and every single argument must be relevant within the research design as per No. 4 above.
10. The conclusion must be a logical consequence of the analysis, and is an answer to the problem stated at the beginning.
11. The flow of reasoning must be clear and sound, so it is easy to follow.
12. The use of language should be formal-academic and at least has sufficient grammar and spelling for readers to understand it. Eloquent use of language is very much appreciated, but do not exaggerate.
13. The abstract should properly summarize the whole research by stating at least: the problem, the method, and the conclusion, so readers can know what the research is all about when they see the abstract.
14. Read more. Not only this will increase your knowledge and inspiration on what to write, but also you can learn from how different authors design their research and construct their arguments.
QUESTION 6: HOW DO I CHOOSE A JOURNAL TO SUBMIT MY ARTICLE?
There are many considerations from which to choose a journal to submit to. I hope you are patient to read them all because, inshaaAllah, all of them are important and some are quite urgent.
First, look at your own literature. What journals do you usually read and cite in doing your work? What journals do they cite? It is very likely that these journals are leading in your field and worth to try submitting to. Google the journal's name, then you may find its website. You will find all information there!
Second, look at university journals. If you are a law student, for example, most Law Schools in the world would have law journals. You can check the law school websites of different universities and you may find links to the university law journal website. Your own university may have its own journal as well. However, submitting to a journal managed by a university you study in does not guarantee higher chance for you to be accepted (see Question 12).
Third, sometimes top research institutes and government bodies have journals. Usually, if you are well read into the topics you research in, you will come across these journals as per the First point above.
Fourth, make sure you are looking for peer reviewed journals, meaning that articles are properly selected by experts (i.e. review process as explained in Question 2 above). Usually the websites of the journal would state this. Avoid predatory journals, which are essentially journals that would publish anything sent to them as long as the authors pay. It may seem easy to get publication, but they do not have any credibility. Plus, your reputation in the academia will be tarnished if people find that you have publications in predatory journals!
Fifth, be careful with predatory journals. As a further explanation to the fourth point, sometimes predatory journals claim that they are peer-reviewed but in fact they do not. There are some signs of predatory journals, such as:
1. the scope is too wide, such as covering management business law and politics in one journal, 2. there are many articles that are completely irrelevant to the scope of the journal, such as having an article on international refugee law in a journal of analytical chemistry,
3. The journal has so many issues/editions within one year.
4. The formatting and typesetting of the journal is inconsistent between different articles within that journal, etc.
The above are only among many characteristics of a predatory journal, and must be seen cumulatively. Among the simple ways to check whether a journal is predatory is to check at the Beall's list website at this link: https://beallslist.weebly.com/
In this Beall's list, make sure you use it correctly. See the screenshot below: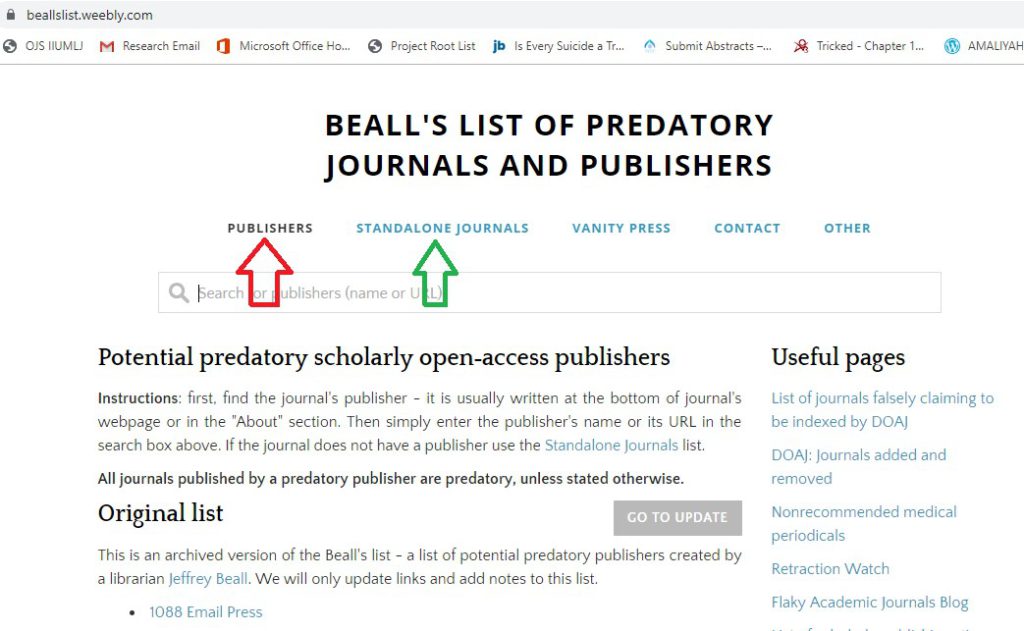 There is a page where you search for the journal name (green arrow), and there is another page where you search for the publisher of the journal (red arrow).
PS: there are some controversies about the Beall's list. However, some government institutions (like Indonesia and Malaysia) refer to Beall's list as consideration, and also it is better safe than sorry, if you ask my opinion.
Sixth, if your article is multidisciplinary, you have more options! For example, articles on "Islam and human rights" might be submitted in Islamic law journals, Islamic studies journals, law journals, international law journals, etc.
Seventh, consider journal indexing. A journal is considered "indexed" when a certain body acknowledges that the journal is qualified and good. In the website of each journals, you will usually find a list of what bodies have indexed them. Likewise, in the website of indexing bodies, you will find a list of journals which are indexed under that body.
The thing to consider is that different indexing bodies have different standards of determining the quality of a journal required to be indexed by them. There are indexing bodies which are very lenient in their requirements, so that almost any journal (even bad ones) could pass. An example of this is Google Scholar. There are indexing bodies which are very strict so that usually only really good journals can pass. Examples of this are Web of Science and Scopus. There are also some indexing bodies which are not so strict as Web of Science but not as lenient as Google Scholar. Middle, we can say, such as the Directory of Open Access Journals (DOAJ).
Sometimes government bodies can make these indexes too, such as the Malaysian Citation Center by the Malaysian Ministry of Education, as well as the Accreditation of the Indonesian Ministry of Education.
Eighth, consider impact factor. Impact factor usually indicates the reach and citation of articles of journals, we can say that it shows how popular and useful were the articles published. When a journal indicates its impact factor, it usually will also indicate which body provides the data for that. Be careful because there are some bodies which provide impact factor but they are predatory (in this context, it means that the bodies will give an impression of a high popularity while in reality that is not true). It is hard to explain how to assess predatory impact factors, as the variables are quite complicated. Usually, good assessments of impact factors are done by good indexing bodies, such as SCOPUS and Web of Science. There is a website that includes a list of predatory impact factor assessment bodies: https://predatoryjournals.com/metrics/
To "take the extra mile", go for the higher ranking journals within the higher indexing bodies. For example, SCOPUS divides the journals indexed in them into four levels: Q1 (highest level), Q2, Q3, and Q4 (lowest level). You can check either in the Scopus website, or in the SCIMAGO website. Aim higher!
Ninth, consider publication fees. Some journals have publication fees which you must pay. Some journals require you to pay when you submit (without guarantee of acceptance), some journals require you to pay only when your article is already accepted. There are claims that only predatory journals charge you fees, but this is incorrect. Journals require funds for their operational cost, sometimes they are funded by universities or government but sometimes they are not so they need to charge authors. It is only considered as predatory if the fees are the sole criteria for your article to be accepted, whether they admit this or not.
There are, however, numerous good journals which are free of any cost. The point of this section is just to make sure that you check if there are any fees, so if you do not want to pay fees then you do not try to submit to journals that require you to pay. But even if you are okay with paying, make sure it is not predatory.
Additional note: some journals have a "fast track" review service if you pay a certain fee. This does not guarantee that your article is accepted, but it will guarantee that the review is conducted super-fast so you will know very soon if your article is accepted or rejected. The reason is, when reviewers are assigned to review an article, it will not be in their top priority. After all, they are experts with their own occupation and duties, and usually reviewers are not paid for their review (or paid very little). This is why they are usually given very lenient deadlines for reviews. This "fast track service" basically means that the reviewers are paid significantly higher but for a very short deadline.
Tenth, check its publication track record of timeliness. As per Question 1, journals would usually mention its frequency of publication on its website. If not, you can check its archives and you can see how many issues/editions it normally published per year. If it is terribly irregular, or perhaps its last publication was two years ago (or basically failing to meet the last publication schedules), it might not be preferable to publish there.
It must be noted that "irregular" here means that it publishes the same number of issues/editions per year. But a few things must be considered here:
1. Sometimes journals would change their policy, for example it may have used to publish 1 edition/issue per year since 2000-2012 but since 2013 they start to publish 2 editions/issues per year. This is no problem as long as they are consistent.
2. Sometimes journals publish "special issues" outside the regular editions/issues. This does not count in the regular issues in terms of consistency of frequency.
3. Sometimes they are just late a couple of months. This is still a sign of poor management, but there are those which are very terribly worse.
QUESTION 7: CAN I PUT MY SUPERVISOR'S NAME AS CO-AUTHOR?
This is a very sensitive question, but this must be addressed properly.
1. According to the common practice of publication ethics, it can be summarized that co-authors are persons who have contributed to (a) writing a substantial portion of the article, and (b) evaluating and approving the entire article before publication. Merely providing feedback and advise does not constitute as co-authorship. However, active participation in the design of the research, making instructions, evaluating and approving, may constitute as justified co-authorship.
2. It is understood that we can feel much gratitude to our supervisors for supervising us, and we 'want to give them a favor'. However, we must give justice: we give what is due to whom it is due as much as it is due. There are multiple options here. You can either involve your supervisor(s) actively in constructing the article (see Question 4), so they have contributed significantly and therefore must be put as co-author. Alternatively, you don't need to involve your supervisor(s) actively, but you can put a dedication section in your article (either in the first footnote, or at the end of the article) to thank people who have helped you including your Supervisor.
3. Even if you really want to include your supervisor as co-author when they did not contribute much, you really must make sure that (a) you have asked for their approval to be included as co-author, (b) they have read your article in detail, and (c) they really approve every single thing you say to be also attributed to their name so that nothing contradicts their academic position. Confused? Let me explain what the point is below.
If a Professor, in her/his academic position disapproves of X, then he will not want any publication which ­­approves of X with her/his name as co-author. This is so because readers will think that this Professor is inconsistent with/has changed his academic position. When you put your supervisor as co-author in an article which argues something against your supervisor's academic position, you are not doing her/him a favor. Instead, actually you are destroying her/his academic integrity.
Additionally, do not forget that publication is more about contribution to the academia than 'getting points for promotion/KPI'. It is possible that your article is accepted despite many flaws in it (some middle indexed journals are more forgiving because they don't have enough articles to publish), and perhaps your Professor has published many high-quality articles. Since your Professor is co-author to your article, imagine what the world of academia would say when they see a significant reduction of quality of your Professor's work! Many would even suspect that your Professor demands his name to be put in your paper for his points and this would tarnish her/his academic integrity even further. I know that might not be the case, but how can you clarify this to the world?
This is why you must –at least—make sure that all co-authors, including supervisors, have read all parts of your article and has approved all of it. You must also seek active feedback from your supervisor(s) when co-authoring the article to ensure they can direct you properly.
QUESTION 8: HOW DO I FORMAT MY ARTICLE?
What format should we follow? How many words should an abstract be? How many keywords? What are the chapter/section titles required? Should I use footnotes or bodynotes? Should I use Chicago Style or OSCOLA? How long should my article be?
The answer to this is to check the author instructions of each individual journal, because they will usually have their own rules and regulations to follow. Also check the previous editions of the journal to see what articles have been published, and how are they written.
QUESTION 9: HOW DO I FIND IDEAS OF THINGS TO WRITE ABOUT?
This is a common thing asked by students. Some people seem to naturally find ideas very easily. Other people seem to find it very hard to find a topic. Others seem to have difficulty in choosing which topic to write on (from so many choices). Here are a few tips:
1. Most importantly, you need to make sure you understand what journal publication is about. See Question 5 points 2 and 3.
2. Try ponder on all the things that you have learned. The world is imperfect, and humanity is worse. Surely, from the eyes of all the things you have learned, you must have found many problems that need solving. It can be problems in theory, problems in policy, or certain suffering around you, or there is an existing solution which you disagree with, or anything! It is these problems that will require your research to help solve, then you write about it. That is what you can publish.
Additionally, this might not only give you the intellectual inspiration (i.e. ideas) but also the passion to make the research. Many researchers are motivated not only by their professional need (or graduation requirement) to publish, but also by their strong feeling to solve the problem. In Islamic teaching, true knowledge is stored in the soul where faith and emotion are also stored. Therefore, when your knowledge makes you realize that problems occur around you, it is impossible not to feel the desire to endeavor to rectify them.
3. Reading other journal articles or researches is an important thing to do. Not only that it enhances your knowledge in general, but also it can inspire you to think of things that authors may have missed or be mistaken of. This can give ideas of what to write. But even if you already have found a problem to research on, this step is still very much needed as per Question 5 point 7.
4. Try seeking other forms of knowledge, such as reading newspapers, attending seminars, or even asking your friends or lecturers. Or, if you can open your heart to actively seek problems (not get yourself into trouble, though!), perhaps you could find inspiration from other sources like novels or movies.
QUESTION 10: CAN I PUBLISH CONFERENCE PAPERS IN A JOURNAL?
There are numerous academic conferences hosted by various institutions around the world. Scholars and students attend these conferences to present their research and share their thoughts with each other. Therefore, the participants would have authored papers. Can we publish that paper in academic journals?
The answer is: depends.
No journal would accept articles which have been previously published elsewhere (except predatory ones). However, there seems to be different practices in interpretation on what constitutes as "previously published" regarding conference papers.
Some journals have no problem with this at all, whether or not the conference publishes articles in its Conference Proceeding or not.
Some journals do not want to accept this at all.
Some journals are in the middle ground, where they accept but with requirements (e.g. must have significant revisions first, or the conference must not have a proceeding containing the full text of the papers, etc).
There is no general rule regarding this matter. So, with regard to this matter, two things must be remembered:
1. Check the rules of the journal you intend to submit to.
2. Even if the journal may publish conference papers (whether with extra requirements or not), make sure you indicate this to the Editorial Board. Either you mention it when you submit, or you mention it in a footnote or dedication page in the article.
QUESTION 11: DO I NEED TO SEND MY ARTICLE TO A PROFESSIONAL PROOFREADER?
Proofreaders are professionals who would examine your article and correct the use of language. They can correct misspellings, grammatical errors, typos, or even help you express yourself in a more efficient and eloquent way.
In general, proofreading is a luxury. It is not by default necessary, but you may do it to perfect your article more (in terms of use of language).
However, some people may have difficulty in expressing themselves in written language. What makes is more difficult, remember that journal articles would require academic language. Sometimes we may have trouble writing academically even in our own native language. It might be even worse if we are writing in a different language.
Actually, this is a question of skill that we can obtain and harness by practice. Keep on writing and evaluating yourself. Take courses, ask feedback. Read more, and this time do not only pay attention to the substance. Observe how authors of articles in top journals or books choose their words, arrange sentences, and express themselves by constructing paragraphs in such a way to explain their ideas.
However, this does take time and so much effort and sometimes you need it fast. Sometimes, journals will reject your article or request you to revise it because the English is too poor and the Editorial Board cannot understand it. In this case, it may become important (or even compulsory, in case of thesis) for you to have your article proofread or perhaps even translated.
When you do proofreading or translating, there are a few things you must remember:
1. Make sure you know how much you are paying, and make sure you communicate your deadlines.
2. Make sure you are hiring a qualified professional.
3. Make sure that the person you are hiring is familiar with your area of research. Remember that certain words might mean different things depending on the area of knowledge discussing it, such as how the term 'security' means something very different in finance as compared to its colloquial use.
4. Request proofreaders to make tracked changes so you can see what they have altered, so you may be able to check again if there are mistakes in their proofreading.
QUESTION 12: HOW DO I KNOW WHO IS REVIEWING MY ARTICLE?
As explained much earlier, the Journal would appoint a number of reviewers (i.e. experts in their field) who will assess the article comprehensively and then provide recommendation to the editorial board whether the article should be accepted or rejected. Reviewers are primarily appointed due to their expertise and publication track record, but secondarily due to their availability to make the review.
It must be known that usually the reviewers are not from the Editorial Board. If the journal is managed by a university, the reviewers might not even be from that university (many journals prefer to search for reviewers from different universities or even countries). And, this is the basic knowledge that we have of the reviewers.
From here, there are two possibilities:
Possibility 1, blind-reviews. Most academic journals apply blind reviews, meaning that the author will never know who the reviewers are, and the reviewers will also not know who the author is. Although, later if the article is published, the reviewers can check the journal and find out. This method is applied for objectiveness. Reviewers will be protected from bias if they recognize the author, and the author cannot "persuade" the reviewer personally either. So in this case, you will never know.
Note: Since most academic journals apply this method, including university journals, you will likely not have a higher chance of acceptance just because you are submitting to a journal managed by your own university.
Possibility 2, open reviews. A very few academic journals apply open reviews, meaning that authors and reviewers know each other. Even, some of these journals will publish what the reviewers say about the article (if the article is accepted). This method is applied to ensure transparency and accountability of review process. In this case, you will know who your reviewers are.
This depends on the journal editorial policy, and you can check this in the journal website.
QUESTION 13: WHAT IF I DISAGREE WITH THE REVIEWERS CRITICS TO MY ARTICLE?
When you submit your article to a journal and the review process has been completed, the journal Editorial Board will send you the decision regarding the article and the reasons behind that. Therefore, may find out why your article was accepted or rejected, and what you can improve.
There are two possibilities of things to disagree on.
Possibility 1, you disagree with the decision. Usually, when people disagree, it is when they are rejected (I am not sure if anyone would disagree if their paper is accepted). Some authors are not satisfied with the reasons of their rejection. It is not impossible to try to email the Editorial Board explaining your position and disagreement. However, to the extent of my knowledge, it is usually unlikely that they will change their decision. Rather than this, it is perhaps to just improve your paper and try submitting to other journals.
However, some journals may have "appeal" mechanisms if their website says so. In that case, maybe you can take your chances if you wish to do so.
Possibility 2, you disagree with some of the feedback. In the event that your article is accepted, it is very rare that the journal requires zero revisions. More often than not, there are a list of things that you will have to revise. It is here that sometimes you may disagree with the feedback given to you. In this case, yes it is possible to argue against the reviewer! You can explain how you think the reviewer is incorrect. There are a few ways to do this, depending on the journal you are submitting to.
If the journal only sends you a list of items to revise, then you can mention a list of things you disagree with in the email which you send your revisions.
If the journal also sends a draft of your article with comments by reviewers, then you may revise using that file, and you reply to the comments explaining your disagreements. Then, you send this file back to the Editorial Board.
What happens next? For sure, your article will undergo "compliance check" to see whether you have revised properly. Your disagreement will be taken into account, and there may be different ways they do it. Sometimes they (the Editorial Board) just determine by themselves, sometimes they send to a different reviewer, and sometimes they send back to the previous reviewer, depending on the Journal policy. However, either ways, in the end it is the Editorial Board who will decide on the matter.
I have done this a few times also. Do not be afraid to disagree, if you have strong grounds. There are a few things you must consider, though:
1. Make sure you think it through first. Do not be stubborn, and re-contemplate first.
2. When you explain your disagreement, make sure you are specific and clear. For example, if the reviewer said "author has not explained X" do not just say "yes I have" but also mention where exactly have you explained X.
3. Make sure you keep your language calm and polite, even if the reviewer is harsh. Do not be disheartened by harsh comments. If you are angry with their comments, scream in real life but do not write that down.
QUESTION 14: HOW DO I SUBMIT MY ARTICLE TO A JOURNAL?
The first thing to do is find a journal which you wish to submit to (see Question 6). When you have found a journal, then you must find the journal website. Googling the journal name is the easiest way to find their website. Make sure you find the actual home page of the journal, and not other websites talking about that journal.
The second step is to check the submission requirements and author instructions. You must adjust your article formatting to conform with their required format.
The third step is to submit your article. The author instruction page will usually contain means to submit your article. Sometimes journals will require you to use online platforms (Online Journal System), other times they will require you to send the article via email. The online platforms might be a bit complicated if it is your first time (especially if you are not tech savvy), but they do have instructions to help you, its not too difficult but requires patience.
PS: some journals indicate in their website that they accept hard copy submission by post even submission via disc (sent also via post) or as well. But if you can access their website or read this post, come on, just save time and send electronically. Although, if you wish to send via post anyway just for the fun of it, then it is up to you.